JPG is the most web-friendly image format and widely used. There are sometimes, we just save and capture texts in JPG format, and later need to convert a JPG file to editable Word Docx file for further use.
So, today, we are going to explore the best solution for JPG to DOCX with OCR and help you find what is the best JPG to DOCX OCR converter online or offline, according to your personal needs.
First, We Need to Know about OCR
OCR, as you may have googled, is the short name of Optical Character Recognition. It is applied to recognize the text from image-based files and turn them into computer-readable texts, so the texts can be future edited, modified, etc. OCR technology brings a lot of benefits for us, it can read the image text out loudly for blind people, it allows instant translation between different languages……
So, in conclusion, if you want to convert a JPG to editable DOCX, OCR is required.
The Best Online JPG to Docx OCR Converter Online 2020
You may find it is quite easy to find an online JPG to DOCX converter since there are so many choices displayed in Google results, however, the truth is, not each online JPG to DOCX OCR converter is capable to changing a non-editable JPG file to editable DOCX document as it claims, most of the online OCR don't even work. And after testing and comparing the results from dozens of online JPG to DOCX converters, we finally come to our best choice—onlineocr.
OnlineOCR
It is a platform allowing users to extract text from PDF, JPG, BMP, TIFF and GIF, also convert them into editable Docx, xlsx and txt format. It can perform files in 46 languages.
Pros:
Easy to use, 3 steps;
Convert JPG to editable DOCX with original formatting;
Fast conversion;
Cons:
No batch conversion support
File size limit
Before showing you the steps to convert a JPG file to editable DOCX format with onlineocr, I feel excited to show you the conversion result first, it is good.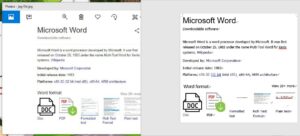 As you can see, the left is the original JPG file, while on the right is the Docx output from onlineocr. The DOCX looks exactly the same as the JPG file, except there is a small icon recognized as some messy characters. It is really outstanding that OnlineOCR can yield such a high quality result, most of its competitors cannot maintain such a good formatting, even cannot perform the OCR successfully.
Steps to Convert JPG to Editable Docx with OnlineOCR
Go to onlineocr.
Click "Select file" to upload JPG file from your computer for OCR conversion.
Choose language as English or your target language;
Choose output as Microsoft Word (Docx);
Click "Convert" to export JPG as editable Docx format.
A Little Words about Other Online OCR Converters
As I mentioned in the beginning of this part, though there are many online OCR converters available, few of them can actually turn images into editable Word or other formats, such as
Aconvert, convertio, zamzar, ofoct, if you have done the testing as I did, you will find these online converters only try to save the image in Word Docx format, instead of turning them into editable texts in Word.
Even, smallpdf, the most popular platform to convert PDF and images, can not convert JPG to Docx directly, you will have to save a JPG as PDF first, then convert PDF to Word Docx.
What is the Best JPG to Docx OCR Converter Offline 2020?
Though Online JPG to Docx converter is free and easy to use, there is still the potential risk of information leakage, and it requires stable Internet connection. And that is the reason why a part of users prefer to use an offline JPG to Docx converter to get safe and professional-looking conversion.
OCR is not simple, that is to say, a satisfactory OCR job can never be perfect and cheap. But PDFelement is worth a try.
PDFelement (Mac and Windows)
In fact, PDFelement is a PDF tool and deemed to be the best alternative to Adobe Acrobat with a more affordable price. It allows users to edit, create, convert and manage PDF files as that as Adobe Acrobat enables users do. Also, it offers various PDF templates to customize your PDF files for personal or business purposes. It is now available both on MacOS and Windows.
OCR is a great feature PDFElement builds in to help users convert scanned PDF, images into editable Word Docx, Excel, PowerPoint and other editable formats. The most convenient part of PDFelement is, it enables you to OCR and edit the OCRed file within the same program. That is to say, if there is any OCR errors or you want to modify the OCRed file, you can directly edit within PDFelement, then save or export as needed.
Also, if you are not sure that PDFelement is worth an investment, you can download its free trial first and verify its performance yourself.
Steps to Convert JPG to Editable Docx with PDFelement
1. Download and install the free trial of PDFelement on your Mac or Windows PC.
2. Run PDFelement and drag &drop the JPG file into the program for opening.
3. Go to File>Preference>OCR to choose file language
4. Go to Home>To Word, choose output as Word Docx, done.
Conclusion
Of course, there are so many choices on online or offline JPG to Docx OCR converters. The reason why I don't put them on my recommendation list is mainly due to that those fail to perform OCR successfully or with high quality as they states, also partly due to that, we already have tested out the best pick here, why waste extra time and effort but take you to nowhere?