For years, MacX DVD Ripper Pro has been picked as the best mac DVD Ripper software. And actually, it lives up to its reputation, here in this review, you will find a list of reasons for this.
MacX DVD Ripper Pro Review At A Glance
Blu-ray Support: No
Free Edition: 5-minute DVD ripping
Windows Version: WinX DVD Ripper Platinum
Easy to Use: Yes
Input: DVD Disc, DVD Folder, ISO File
Output: MP4, MOV, M4V, AVC, AVI, MPEG, WMV, MP3, AAC, AC3/DT), TS, etc.
The Good
Outstanding output support, excellent ripping performance (fast and highly successful), work on latest M1, M2 Macs
The Bad
Not working sometime
Basics about MacX DVD Ripper Pro
MacX DVD Ripper Pro is a media tool to rip or extract video & audio from homemade or commercial DVDs, ISO images or DVD Folder, regardless of old, new, 99-title, damaged or unplayable DVD, then export as common video format for portable playing at anytime anywhere. Besides this, how many do you know about MacX DVD Ripper? For better or worse, you should know some basics about it as following.
Does MacX DVD Ripper Pro Support macOS Ventura or Monterey?
Yes.
MacX DVD Ripper Pro supports all macOS versions, including Ventura, Monterey and earlier Big Sur, also support all chips, Intel, M1, M2. It is always under regular update to fix bugs or improve DVD ripping performance these years.
Does MacX DVD Ripper Pro Support Blu-ray?
No.
It is a pity that MacX DVD Ripper Pro doesn't support Blu-ray, but is it a good thing to focus on one thing before expanding to another new field? Maybe that's how MacX DVD Ripper Pro becomes the best Mac DVD Ripper for Mac. Of course, we are looking forward to the day when it adds support for Blu-ray.
Limits of MacX DVD Ripper Pro Free Edition
Unlike other programs whose free edition can even help perform a complete task, MacX DVD Ripper Pro's free edition is offered for evaluating purpose only:It is limited to rip 5 minutes DVD. To rip a complete DVD, you have to purchase the full version.
5-minute DVD ripping may be not enough for you to precisely evaluate if it is the one you need, but it is OK to purchase the full version and rip a complete DVD, since it offers a 30-Day money back guarantee.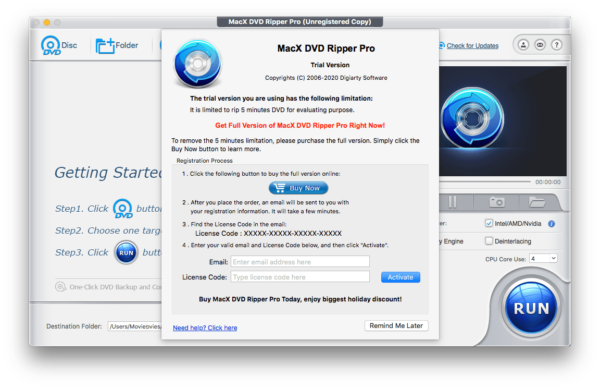 Is There A MacX DVD Ripper for Windows?
MacX and WinX, do these 2 give your some clues? Yes, they are from the same software developer Digiarty, products named after MacX are designed for users on macOS, while those WinX ones are for users on Windows. Therefore, you can find the Windows version for MacX DVD Ripper Pro, it is WinX DVD Ripper Platinum, they both work as the best DVD ripper program on Mac or Windows PC.
How About The Price?
MacX DVD Ripper Pro has a simple pricing structure, you can buy for 1 year or for lifetime.
$59.95: Lifetime License for 1 Mac
$129.95: Lifetime License for 3-in-1 bundle
Review (Why MacX DVD Ripper is The Best Mac DVD Ripper Software)
MacX DVD Ripper Pro is Safe and Easy to Use (Size:52MB)
It is safe and easy to install MacX DVD Ripper Pro, the installer takes about 52MB. After downloading the program from its website, double click the installer and drag & drop the program to your Mac Applications.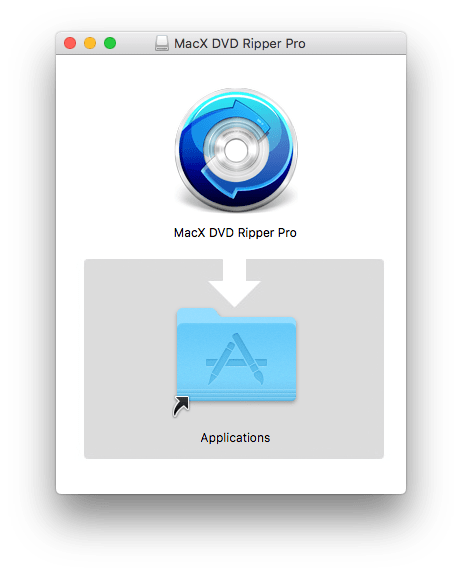 If your Mac tries to stop your launching the program as following, just continue with Open, the program is safe and clean to use.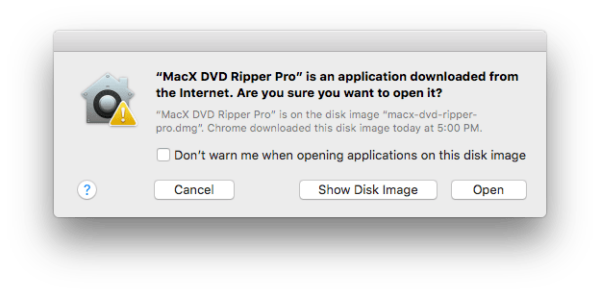 The Interface
If you have tried any Digiarty software before, you should be quite familiar with MacX DVD Ripper Pro's interface too, it applies a uniform interface style and layout. A great proportion of the interface will show imported DVD files, with DVD video Preview window on the left column. Also the Run button to start a DVD ripping process is hard to be neglected.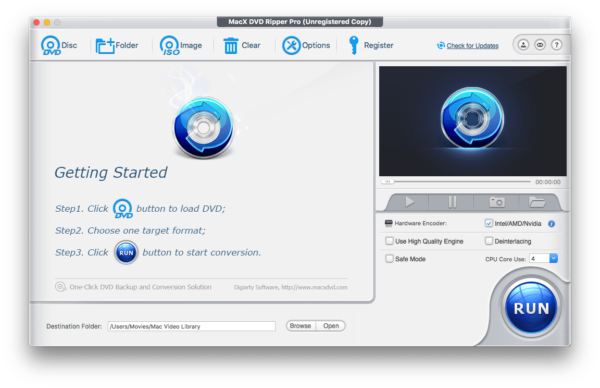 Also, it has multiple interface languages.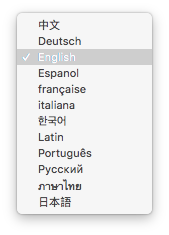 Import & Output
Import
MacX DVD Ripper Pro supports ripping video from DVD Disc, DVD Folder and DVD ISO File. Your DVD can be old, new, 99-titlem damaged, homemade or commercial.
This program will auto detect DVD Disc and prepare for ripping.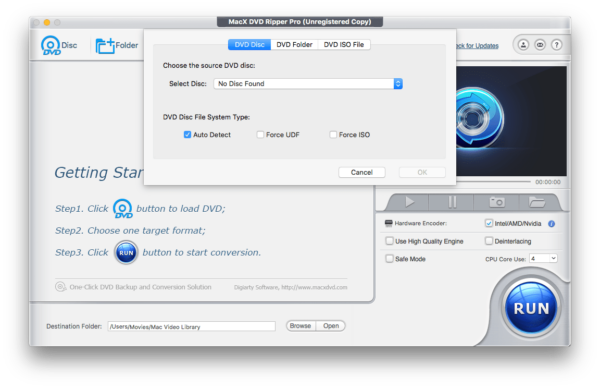 There are 2 ways to import DVD files for ripping, click on the icons or directly drag & drop files to the program.
Output
When exporting the DVD videos, there are 5 main menus you can pick from.
General: MP4, iPhone/iPad, Android Phone/Pad, DVD Video Copy (MPEG2+DTS), HEVC, MOV, M4V, MPEG4.
DVD Backup: Main Title Content Copy (copy and save the DVD with selected audio/video tracks as a single MPG video file), Full Title Copy (back up full title, including all Audios/Videos/Subtitles), MKV.
Mobile Video: Apple, Android, Microsoft, Sony and other device.
Web Video: YouTube (MP4, MPEG4, FLV), Facebook (MP4, MOV, AVI, FLV), Vimeo (MP4), General Web (WMV, AVI, MOV, MP4).
Common Video: Mac(MP4, MOV, M4V, , Windows PC(AVC, AVI, MP4, MPEG, WMV, MOV), TV (Samsung, Sony, Panasonic, LG), Music (MP3, AAC, AC3/DTS), TS (TS, M2TS).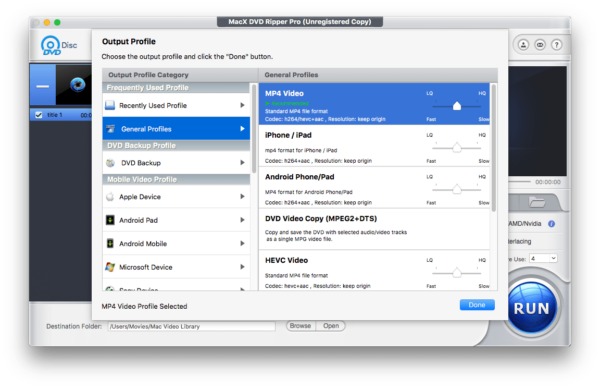 The output menu just contains every format you may need to save, watch and share across different devices.
Advanced Settings
If you require professional and customized video output, the advanced settings may help, you can tweak the settings for video and audio ripped from the DVD files.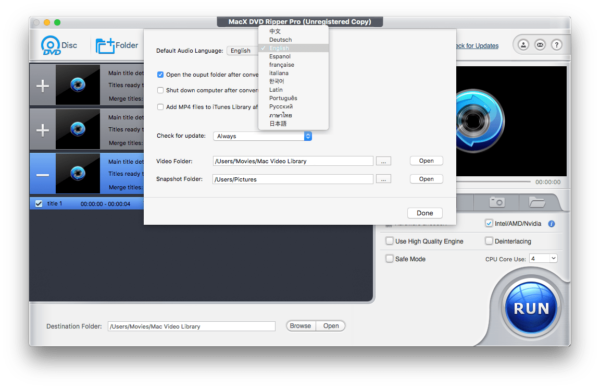 But if you know little about these parameters, don't touch and change. The defaulted settings is always the best one for most of users.
Edit Feature
I guess most of DVD ripping users don't need to edit, but if you want to add some edits to your DVD files, MacX DVD Ripper Pro has such an editing feature, it allows increase/decrease audio volume, add subtitles, choose subtitles position and language, trim, crop & expand. The editing feature is on a basic level.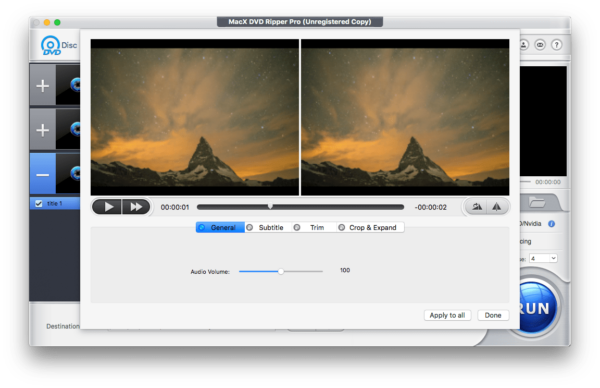 DVD Ripping Performance
Most of the DVD ripper software are designed to do the same thing and have similar features, why MacX is the best Mac DVD Ripper software? Because of its extraordinary DVD ripping performance, it rips DVD fast and with success.
DVD Ripper Speed
It processes the ripping fast. A DVD video is never short in duration, but MacX rips very fast. For a 150-minute DVD file, it took about 18 minutes to finish ripping. For DVD folder and ISO file, it rips even faster.
DVD Ripper Result
First of all, most of the DVD ripping jobs can be done successfully, though few of them may fail for encryption or physical damage reasons.
Also, the video output from DVD can be exported in high quality, with wanted video and audio quality. Of course, the higher the quality is, the large the output video will be, that's totally up to you.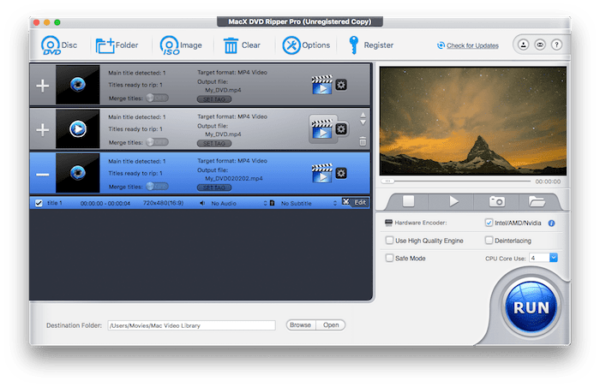 MacX DVD Ripper Problems (How to Solve If Not Working)
1. MacX DVD Ripper Pro Won't Open
Fix 1: Remove the program and redownload the latest version.
Fix 2: Update your macOS to the latest version.
Fixt 3: Restart your mac and restart the program.
2. MacX DVD Ripper Pro Keeps Crashing
Fix 1: Update the program and your macOS to the latest version.
Fix 2: Quit programs that take large CPU during MacX running.
Fix 3: Adjust the number for CPU Core Use in MacX.
3. DVD Ripping freezes
Fix 1: Wait for a while to see if there is any change on the status bar.
Fix2: Restart the DVD ripping.
Fix 3: Check the DVD Disc property and contact with MacX support to check if MacX support such encrypted DVDs.
4. MacX DVD Ripper Pro Cannot Rip Entire DVD
Fix 1: Check if the DVD is physical damaged or there is stains, spot, etc. Make sure the DVD Disc is under good condition.
Fix 2: Save the ripped video, then rip the DVD again for the rest part.
Fix 3: Choose to rip DVD to DVD Backup (Full Title Copy) first, then convert the backup file to a wanted format.
Still Not Working?
Fix 1: Contact MacX support for a solution.
Fix 2: Find An Alternative, for example DVDFab, Wondershare UniConverter.
So, that's all for the MacX DVD Ripper Pro review. It has its strong and weak points. And the best way to evaluate if it works for you is always trying yourself. Are you ready now?