An audio editor helps polish our media projects, like music making, podcast recording, personalized ringtone creating…When talking about audio editing software, WavePad has to be mentioned.
But should WavePad Sound Editor be your choice to edit audio files? Let's have a WavePad review before any decision. You will be able to learn everything you need to know about it.
Part 1. WavePad Sound Editor FAQs
1. What is WavePad Sound Editor
WavePad Sound Editor (the official program name), also known as WavePad Audio Editor or WavePad Audio Editing Software,  is the audio editing application developed by NCH Software, which is an Australian software company established in early 1990s.
WavePad Audio Editor helps to edit audios (cut, split, join, trim, etc.), add effects to audios (amplify, normalize, equalize, etc.), remove audio noise, record audio, convert text to speech, extract audio from CD, export audio as different formats and analyze audios.
2. Is WavePad Sound Editor Safe?
Yes, it is safe, basing on the fact that it has a profound history and been liked by so many users.
Personally, I downloaded and installed several NCH programs, all of them are risk-free, ad-free, and there is no need to worry about its safety.
However, you should download the programs from NCH Software website.
3. Is WavePad Sound Editor Free?
Yes, it is free to use, but some of its features will be locked (SFX Library and full VST support), if you want full features, you can have a 14-day free trial of its Master edition.
4. How Much Does WavePad Cost?
There are 3 subscription plans for WavePad Sound Editor:
Standard Edition (without VST plugins support nor SFX library): Normal price at $60, Discrount Price at $39.95
Master's Edition (all features including SFX library): Normal price at $99, Discrount Price at $69.95
Master's Edition Quarterly Plan: $5.50/month
5. Is WavePad Available for Mac Users?
WavePad Sound Editor offers macOS, Windows, iOS and Android versions, even you can download and install this program to your Kindle.
It supports:
Windows XP/Vista/7/8/8.1/10/11
macOS 10.5 and above
iOS 6.0 or higher
Android 2.3.3 or above
Part 2. The WavePad Sound Editor Review
Good for
Edit audios easily
Batch process audios files: join, convert
Support all needed audio input and output
Fast generating
Extract audio from CD
Record audios
Voice-over by converting text to speech
Need Improvement for
Interface (duplicate toolbars, ads)
Setup
There is nothing extra to do about the setting up, just download and install the program, consent the agreement, everything comes to you.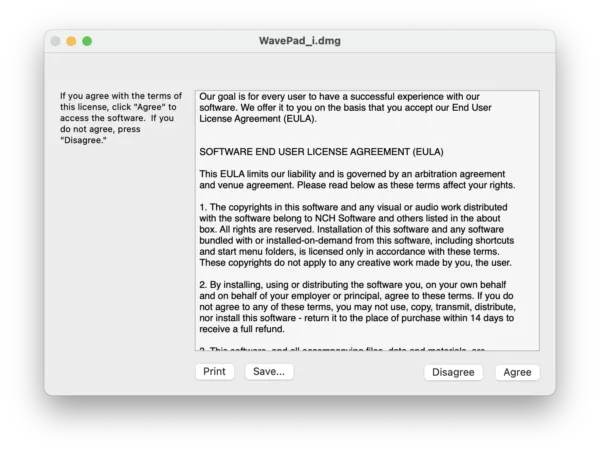 And you can personalize this tool by customizing accommodated toolbars on the main interface, this helps you quickly access to the tools you frequently use and put your favorites tools at your hand.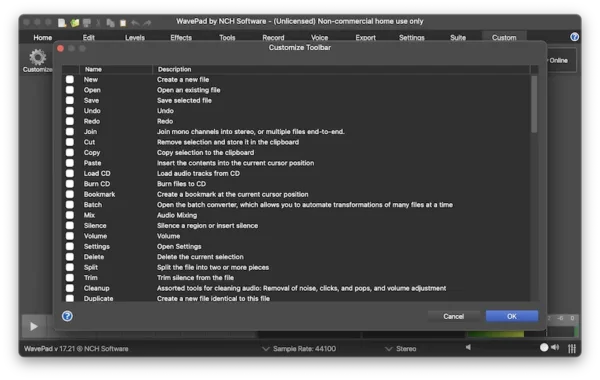 Interface
The interface is easy to use and has a flexible workspace to process each imported audio file, but personally, the duplicate toolbars under different menus is not necessary for me.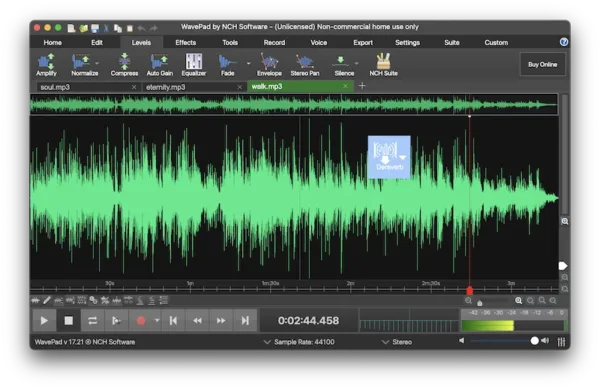 Audio import
WavePad meets your all needs to edit and convert an audio file, but the audio input formats for Windows version is a little different from that for macOS version.
For Windows Version:
AAC, 3GP, ACT, AIF/AIFF, AMR, APE, AU, ASF, AVI, CAF, CDA, DCT, DS2, DSS, DVF, FLAC, FLV, GSM, M3U, M4A, M4R, MID, MOD, MOH, MOV, MP2, MP3, MPC, MPEG, MSV, OGG, PLS, RA, RAW, SHN, SPX, SRI, VOX, VOC, WAV, WMA, WMV, WV
For macOS version:
AAC, 3GP, ACT, AIF/AIFF, AMR, APE, AU, ASF, AVI, DCT, DS2, FLAC, FLV, GSM, M4A, MOD, MOH, MOV, MP3, MPC, MPEG, OGG, RAW, SHN, VOC, VOX, WAV, WMA, WMV, WV
Full Editor
WavePad allows splitting, joining, trimming, silencing and cleaning up audio files, but also helps amplify, normalize, compress, auto gain, equalize, fade, envelop your audios.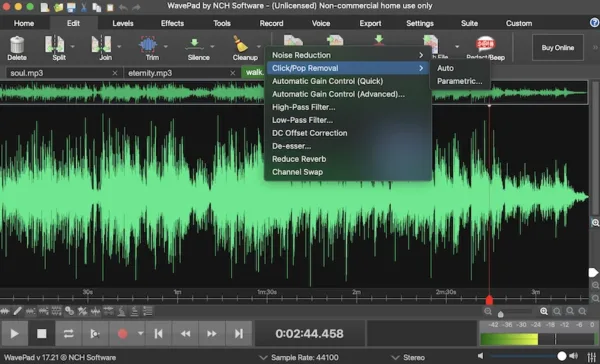 Audio effects
You can add basic, popular even pro effects to the audio, including Echo, Reverb, Chorus, Flanger, Tremolo, Doppler… The real time effects can be previewed before saving.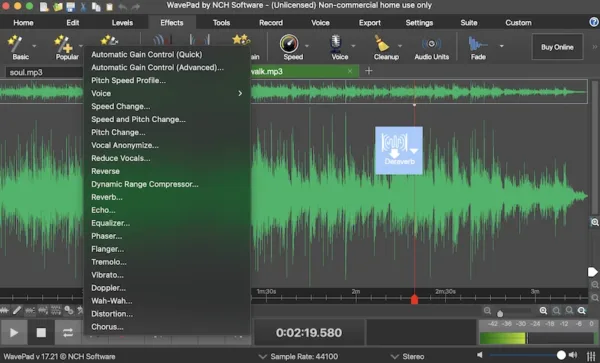 WavePad Sound and Music Library
You can directly create audio files from music in WavePad Sound Library or add sound effects to your audio file by using sounds from its library.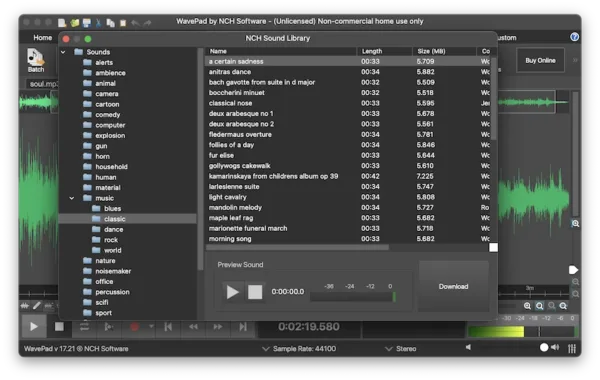 Batch Converter (Audio Output)
The batch converter is used to convert multiple audios files to another audio format in the same time, you can save as:
For Windows version:
AAC, AIF/AIFF, AMR, AU, FLAC, GSM, M3U, M4A, MOV, MP3, MPC, OGG, PLS, RAW, VOX, WAV
For macOS version:
AAC, AIF/AIFF, AMR, APE, AU, CAF, FLAC, GSM, M3U, M4A, M4R, MP3, MPC, OGG, PLS, RAW, SPX, VOX, WAV, WMA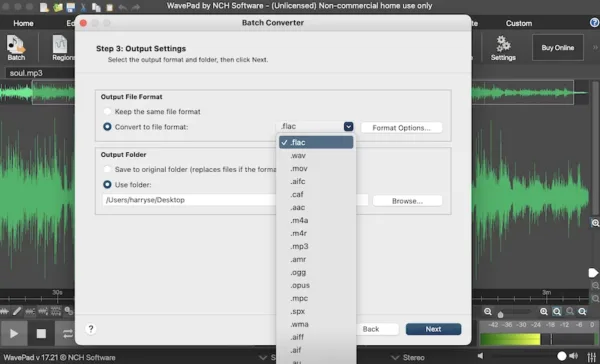 Record
Users can record audio in this app too, from different input device and with customized settings added. There is countdown tool to help you record without flaw.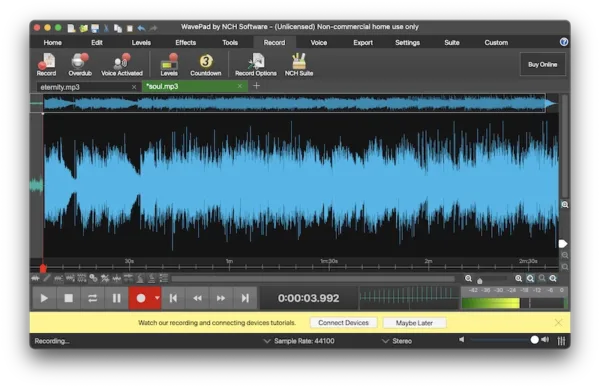 Voice-over
Also you can convert texts to speech in chose pitch to add a voice to your file.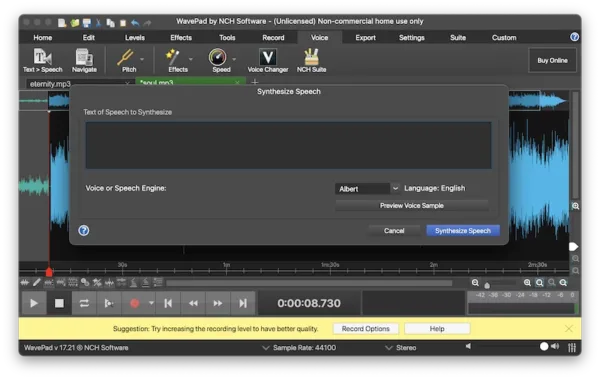 A Hands-On Guide to Use WavePad
Grab a copy of  WavePad from NCH Software website, install and open the App.
Add audio files to the program.
Go to Edit or Effects menu, edit or add effects to your audio files, preview the created audio file.
Choose an output and save the edited or converted audio files.
Part 3. WavePad VS Audacity, Is WavePad Better Than Audacity?
Audacity, the open-source audio editor to edit audios files for free, is always recommended by experts and our users, but WavePad VS Audacity, which one will you choose.
To find out the differences, we here prepare a comparison table for you.
| | User Interface | Edit | Effects | Record | CD Input | Performance | Batch Export | Analyze Audio | Input Support | Output Support |
| --- | --- | --- | --- | --- | --- | --- | --- | --- | --- | --- |
| WavePad | Easy and user-friendly | Split, join, trim, silence, duplicate, mix, etc. | Basic, popular, pro | Yes | Yes | Fast and high quality | Yes | Yes | 40+ | 20+ |
| Audacity | Need improvement | Split, join, trim, silence, duplicate, mix, etc. | Basic, popular | Yes | No | Medium speed, crash sometimes when processing multiple audios; | Yes | Yes | 14 | 12 |
According to above, both WavePad and Audacity offers full features to edit audios files, but WavePad is more powerful, by supporting more input and output formats, by offering richer media library, by allowing extracting audio from CD.