I use Mac and Windows PC both, testing programs on Mac while doing editorial jobs on my Windows PC. My Windows computer is still new, but I feel it running slower and slower these days: startup takes 5 minutes or more, frozen screen, apps take forever to load, apps crash suddenly, fail to delete downloads completely…
Comparing with Macs, Windows computers need regular cleanups more. To remove clutter from PC and give its performance a boost, we use trusted applications, CleanMyPC is on the shortlist. Yet, we don't know if this app worth it, unless we tried and tested. So, we are going to test it and give it a review for you.
Is CleanMyPC Safe?
Yes, safe.
CleanMyPC is a safe PC cleaner tool. In fact, it stands out from the crowd of tune-up utility tools. It won Red Dot awards twice, in 2017 and 2021, won iF design award and got prizes in various campaigns, thanks to its dedications in creating beautiful and efficient utilities, to its passion over social activities.
Awards aside, CleanMyPC gives you full control to clean up your computer safely. It doesn't force to install extra tools or adds-on, it doesn't remove and clean your files without confirmation, it won't stop any apps or workflow you allow to, it won't change your system settings. Yes, it is safe to use.
Is CleanMyPC Free?
Only free to remove 500MB junk.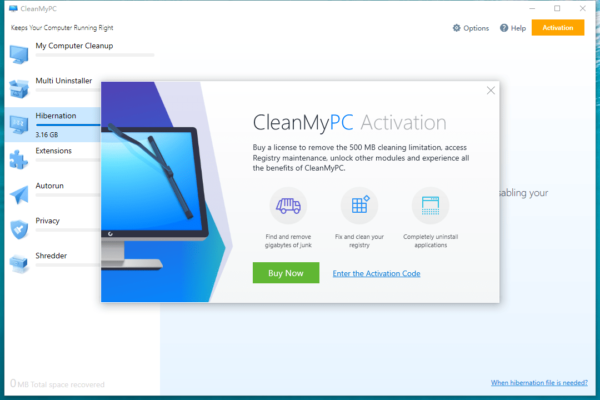 In other words, a paid license code is required if you really want to clean up your computer, because the junk files on our Windows absolutely exceed the size of 500MB.
Also, you can check the limitations of its free trial version:
Remove 500MB junk only
Not allowed to access Registry maintenance
Limit to access to all modules and full features
Is CleanMyPC Good?
Yes, good, according to my test results. Why? You can find the reasons as follows.
1. Remove all kinds of clutter
It cleans all kinds of junk slowing down your Windows PC, like caches, log files, trashed files, unneeded system files, extra languages, etc. It knows exactly where to find and what to delete, not harming your system. User can choose to clean with one click or remove manually.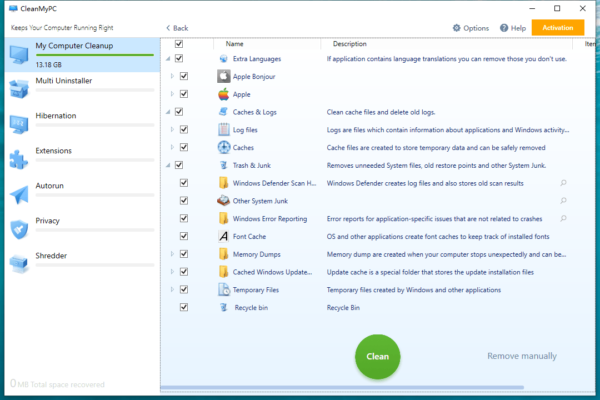 2. Erase unwanted apps and extensions completely
It finds all app installer on your PC, letting you remove multiple apps at the same time. It won't miss any of your installed or downloaded apps, you can fast locate an app by Search. The point is, it uninstalls apps completely.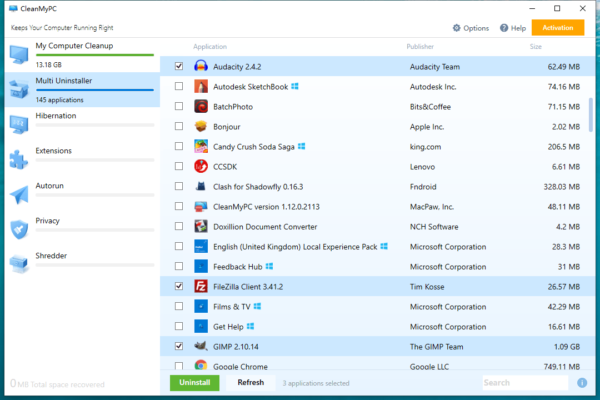 Any extensions added to your web browsers can be removed by CleanMyPC too.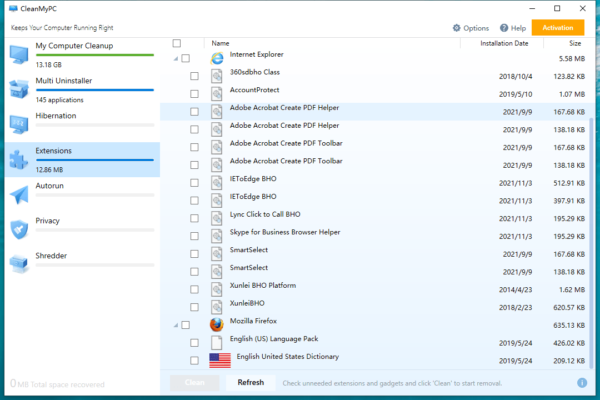 3. Protect your privacy
It protects your privacy by cleaning history, cookies, authorization, cache, session, storage and others in web browser, app packages…You can check the details and tick the box to remove as you need.
Also, the file/folder shredder deletes your unwanted files completely, preventing your files from recovery and secure your privacy.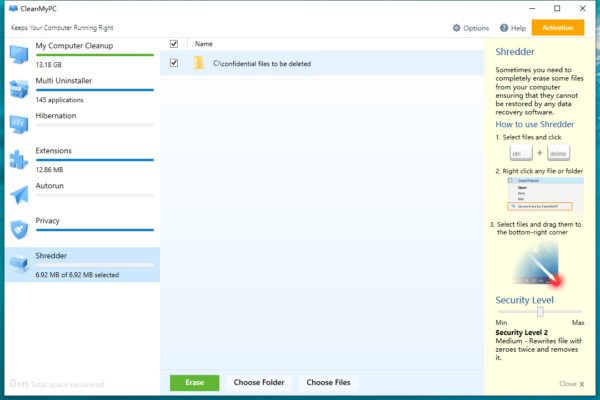 4. Thorough and fast scanning
We need a tool to make our Windows faster, and the tool must be fast itself in finding(scanning) and solving(cleaning) the troubles. Yes, the speed of CleanMyPC is of utmost importance. And luckily, it is fast.
First of all, it finds all files and apps on your PC, of course leaving those important system files untouched. It found 13. 29GB files that can be removed without any loss to my system or private data, within 18 seconds. It detected the apps instantly I entered into the module. And all the files can be cleaned instantly after I click on Clean button.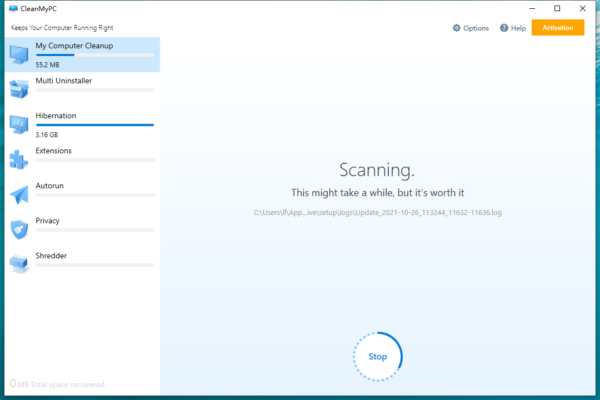 5. Yes, it makes my computer run faster
I let CleanMyPC clean all the files and apps it found for me for deleting, then I checked back those files and apps, yes, very clean, no trails anymore. My Windows gets more and new space now. The startup goes quickly, much faster than I would expect in the past days.
CleanMyPC Alternatives
During the free trial of your CleanMyPC, you can have a try on its alternatives as follows, to decide if you want to activate the program with a purchased license.
CCleaner (Free, Paid version)
Avast Cleanup (Paid)
Advanced System Optemizer (Paid)
Ashampoo WinOptimizer (Paid)
Glary Utilites Pro (Paid)
CleanMyPC VS CCleaner
CCleanner was once a must-have or must-try to clean Windows PC, it was first released in 2004 and had established its fame for long, for the reason to be free and worked well to clean up systems. Now, we know that CleanMyPC performs outstandingly too, should we use CleanMyPC or CCleaner? Let's have a comparison table for you.
CleanMyPC Free VS CCleaner Free
Features
Performance
Limitations
CleanMyPC Free

Scan and remove junks
Uninstall app
Disable hibernation file
Remove extensions
Enable or disable startup app
Erase privacy data
Completely erase folders and files

Fast scanning and removing speed.
Safe to use, removal with confirmation
Remove junk and files completely

Remove 500MB junk only
CCleaner Free

Scan and remove junk with basic mode
Uninstall apps
Enable or disable browser plugins
Erase privacy data
Clean registry
Analyze disk
Find and delete duplicate files
Wipe drivers

Scanning runs properly but not very fast.
Safe to use, ask for confirmation before removal

Ad in app
For free versions, CCleaner offers more features, it cannot only scan and remove junk files, but also analyze and wipe drivers, even remove duplicate files. If you want a free tool to clean up your Windows PC, CCleaner seems to be a better choice than CCleaner.
CleanMyPC Paid VS CCleaner Pro
Features
Performance
Disadvantages
CleanMyPC Paid

Scan and remove junks,
Uninstall app
Disable hibernation file
Remove extensions
Enable or disable startup app
Erase privacy data
Completely erase folders and files
Maintain registry

Fast scanning
Safe to use
Completely remove junks

Less features
CCleaner Pro

Scan and remove junks with advanced mode
Auto free up space on PC
Uninstall apps
Enable or disable startup apps
Enable or disable browser plugins
Erase privacy data
Remove tracker
Clean registry
Update app
Update driver
Analyze disk
Find and delete duplicate files
Wipe drivers

Safe to use
Clean up 95%+ junk on Windows

Slow scanning
The paid CleanMyPC gives full features to clean junk files, privacy data and unwanted app, but CCleaner does more than these, it updates drives, wipes drives, finds and removes duplicates, though the scanning speed is really annoying in my own case. CCleaner took 39 seconds to finish the scanning, while CleanMyPC took only 18 seconds to find 13.29GB files for removal. Also, CCleaner doesn't clean everything if find for me, you need to restart the scanning and remove again.
So, here comes the conclusion, if you want a free clean up tool, try CCleaner, if you want a professional, fast and efficient clean up tool, try CleanMyPC.
Will you try CleanMyPC?
To make your Windows run faster, use a faster clean-up tool. CleanMyPC is not as multi-functional as CCleaner, but it is the best at doing only one thing, clean up Windows PC.