With the slogan "Elmedia Player: universal video player to play all formats flawlessly", Elmedia Player does draws great attentions from people who are looking for an outstanding video player to watch shows or movies.
To give an unbiased review about Elmedia Player, here we test and reveal everything you need to know about Elmedia player before your installation.
Is Elmedia Player Safe?
Yes,it is.
According to my own experience, after installing Elmedia onto my mac, there is no malware or bundled programs added to my mac, I even tried to restart my Mac to check if there is anything abnormal after installing this program, but it seems everything is just OK.
Also, there are neither Ads contained in the program nor any clickable links directing you to its webpages, it is a 100% safe and clean video player.
Is Elmedia Player Free?
Well, Elmedia Player is free to use, but the free version is feature limited.
What Can the Free Elmedia Player Do?
Play videos in different formats
Watch and play online videos
Pause, rotate videos
Add, edit and search subtitles
Create playlist
Enable multiple audio tracks support
Built-in volume control
Fit image into screen
Adjust playback speed
Sync audio to video
Sync subtitles to video
When to Upgrade to Elmedia Player Pro (Paid Version)?
However, the free Elmedia player is feature limited, you may notice that when a video is imported to Elmedia for playing, some of its features are marked as Pro and require you to upgrade to Elmedia Player Pro.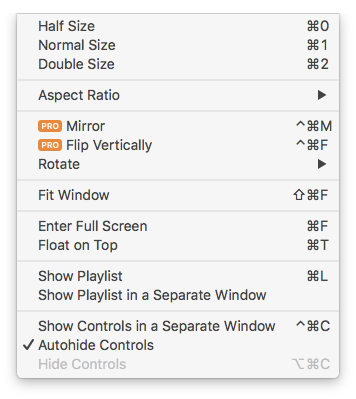 Here is a list of features that require the activation of Elmedia Pro version:
Download online videos
Extract MP3 from YouTube videos
Stream local files to Chromecast/DLNA-enabled devices, to Apple TVs, to other devices with Airplay
A-B Loop
Take screenshots
Record a series of screenshots
Use Video Tuner
Mirror
Flip vertically
Now, the Pro version is priced from $19.95 to $39.95 in 3 different licenses.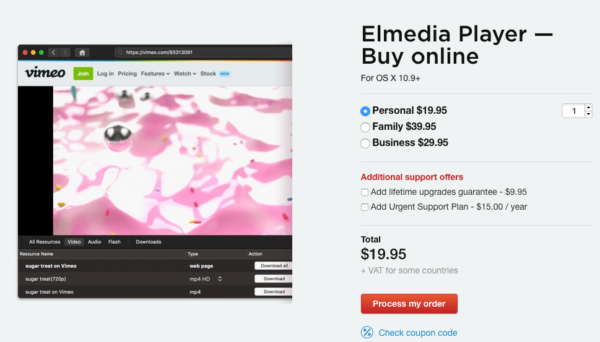 The Review
1. Availability
The Elmedia Player is only available for Mac now, you can directly download the free trial on its own official website and pay for the Pro version later if necessary.
2. Installation
The procedure to install Elmedia player is quite easy, just go to the official website and download the installer in DMG or EXE format. The size of the install is 55.2MB for mac version, while it will take approx. 131.3MB on your mac to finish the installation. Once entering into the Welcome interface, click Continue to start using Elmedia player.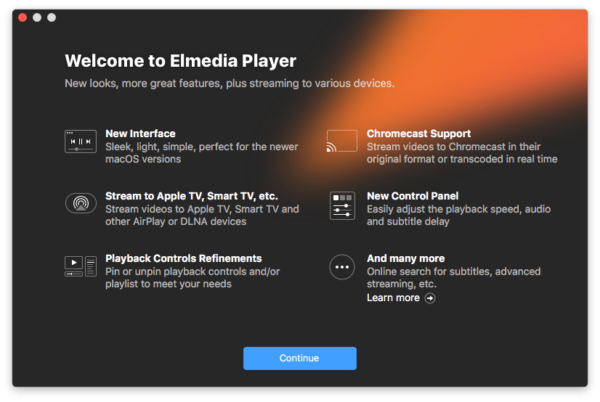 3. Supported Video Formats
Elmedia player supports FLV, SWF, WMV, AVI, ASF, MOV, AVCHD, Divx, MP4, MP3, DAT, FLAC, M4V, MPG, MKV and Blu-ray
Also, it can play HD videos, including 4K videos without losing the original file quality.
4. Interface
The interface will fit into the screen according to the imported video size, also you can drag the borders to expand or narrow the interface.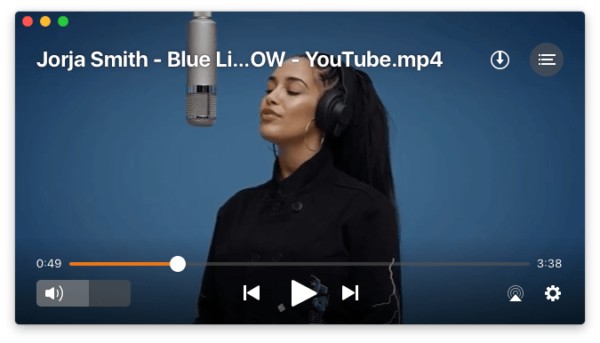 Impressively, the interface is quite neat, there are just the video title and several frequently-used tools (built-in browser, playlist, stream to, volume control, play and settings) put on the interface
The interface is also stylish with a striking color scheme, to help users focus on the current tasks.
5. Speed
Regarding speed, we mainly talk about the loading speed. Yes, Elmedia player responds fast to load and import videos for playing, no matter the file size is from 20 MB to 1.27 GB, there is virtually no pause happens before the video playing.
As for the response, no matter what kind of actions you do to the player, Elmedia responds extremely fast to bring you to whatever you want with no crash.
6. User Experience
To optimize users' experience on watching videos with Elmedia player, Elmedia made some efforts painstakingly as following.
Users can either click on the volume button to volume up or down, or scroll the mouse to increase or decrease the volume, it is quite easy to manipulate.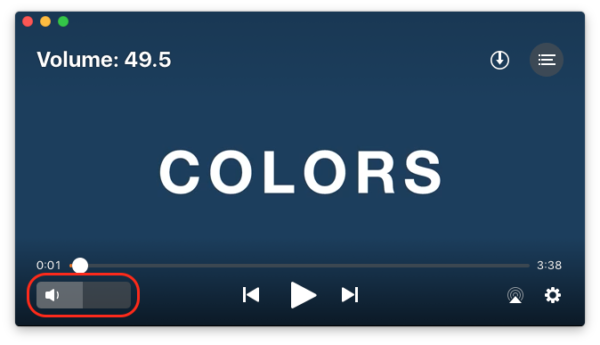 Each video that you once imported to Elmedia player will appear in the playlist, you can remove a video from the playlist, or repeat even shuffle the videos in the playlist. Of course, you can search a media file in the playlist for fast importing to play.
Also, the playlist help you to resume a video watching, you can continue to play the files from where you left last time.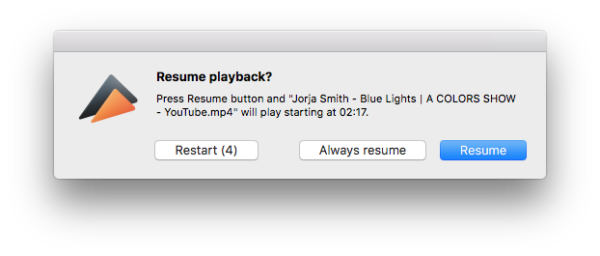 Not only help users to play local media files, Elmedia also allowsy users to seartch and watch online videos from YouTube, Vimeo, Dailymotion. Though Elmedia claims that it allows users to watch online videos without ads, in my test, the ads in the online videos still appear. However, such a built-in browser can save users from opening and playing online videos in a separate platform.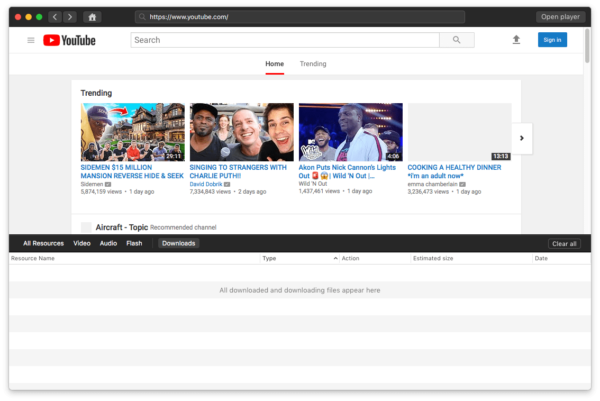 1.Manually adjust playback
You can speed up the playback, also sync the audio or subtitles when they do not match with the video.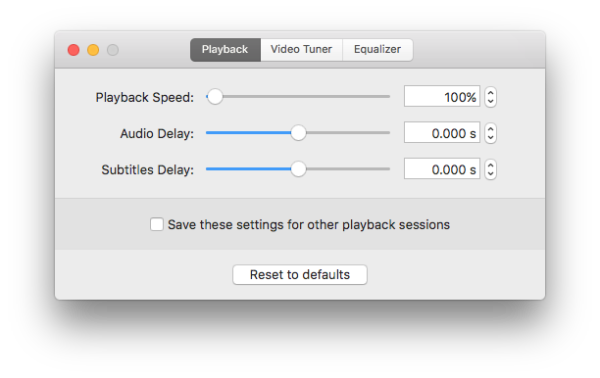 2. Tune the video
For a more satisfactory watching experience, you can use the video tuner to adjust the brightness, saturation, contract, gamma, hue, noise reduction and sharpness. It is OK to adjust as you want, since you can reset all parameters back to defaults if you don't satisfy with the adjustments.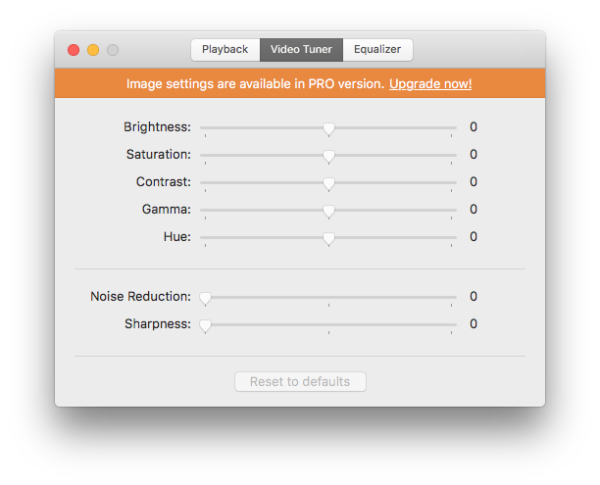 3. Still, you can tweak the equalizer as needed.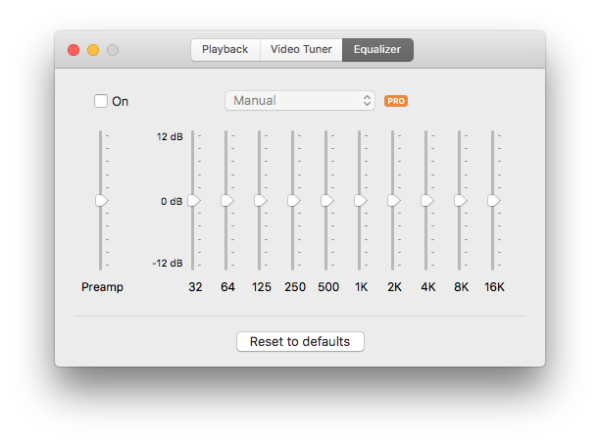 7. Extended Features
Elmedia player is more than a video player, it builds in some extended features to help users watch videos online or offline in a preferred way. However, most of these extended features need to be activated in the Pro version.
A-B Loop: Loop a specific part of the video or audio file continuously
Download online videos from YouTube, even save as MP3
Stream videos to other devices(Chromecast, DLNA, Apple TV) for playing on large screens
Take or record screenshots
Mirror videos
How to Use Elmedia Player on Mac?
It is quite easy to use Elemedia player, here we will show you how to use Elmedia player on a Mac.
Grab a copy of elmedia Player on your mac.
Drag and drop the video file into Elmedia, click the Play button to play or pause.
Click on the Settings button to manually tweak the playback speed, video tuner or equalizer.
What If Elmedia player not working?
According to some users, Elmedia player just doesn't work sometimes. Here are some solutions to fix if Elmedia player won't work.
Play the video in an alternative player to check if it is the problem of the video itself or Elmedia player. If the video can be played in the alternative player, find and download the resource again to make sure the video is not damaged.
Quit Elmedia player and restart to play videos.
Uninstall Elmedia player and reinstall.
Make sure you are using the newest version of Elmedia player.
Update your macOS to latest if necessary.
Find an alternative, like Softorino YouTube Downloader .
Wrapping Up
Frankly, I downloaded and installed the Elmedia player just for Review purpose in the beginning, but after my own personal experience, I decide to make it as an alternative video player on my mac, for the reason that its free version does bring me a satisfactory experience to watch videos, it is free and easy to use, why not have a try.