If you need to deal with media files very often, you are much probably to hear about Digiarty Software, a professional developer to offer a variety of multimedia tools, including MacX Video Converter Pro. Today, we are going to test and review MacX Video Converter, helping users who are curious about its practicability or are hesitate to invest on this tool, to have a better understanding about this program without installing themselves.
Is MacX Video Converter Pro Safe?
Yes, it is totally clean and safe to use MacX Video Converter.
As I have downloaded and installed this program onto my mac, there was no bundled malware found, no annoying ads showed on the main interface. The only thing may bother you is that its product page will open automatically once you have finished the installation, same as the way as any other software does to advertise. And in my opinion, this is acceptable.
What's the Limit of MacX Video Converter Pro Free Trial?
MacX Video Converter Pro offers free-trial version for users to verify if it is worth a try. However, there are limitations for this free trial, you can check below to find out which features you are allowed to use for free, while which features you are required a payment on the full version to utilize:
Free to convert photos to slideshow
Free to download YouTube or other online videos in MP4 and Webm format
Free to use Mac camera to record videos
Free to use the Recorder to record any actions on your screen
Only allowed to convert 5-minute videos for free (Also, the editing tools are disabled when you reach this limit)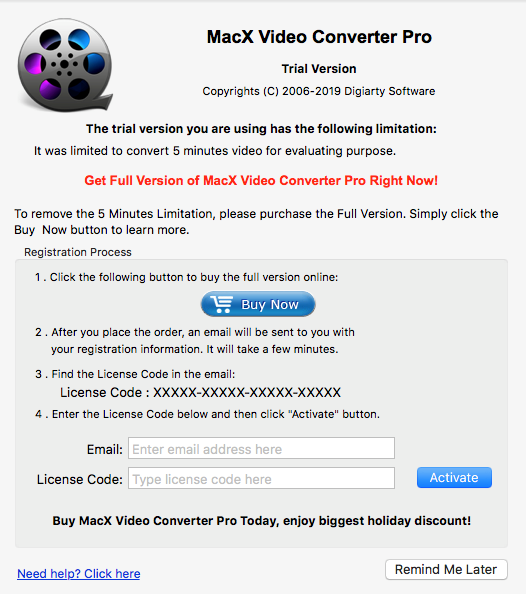 As it name says, it works as a Mac video converter, if you want to convert videos with this program, you are recommended to pay for full version. But if its extended features satisfy you more, you can continue to use its free trial.
The Review on MacX Video Converter Pro
Now, we are going to test and give an objective review on this program. Since it is versatile in function, we are going to review its feature one by one.
The Interface
Before the review on each feature, here are some words for the Interface of MacX Video Converter, it is neat, simple and user-friendly. Users are well guided to use all its features by going to individual interface. Also, you can go back to main interface when exiting from an individual interface.
Convert Videos
*Response
When trying to navigate to the folder where my videos are stored, MacX is proved to locate my videos quite faster than others.
*Speed
Well, MacX boasts itself in 5X faster than others. It is indeed fast.
—Uploading speed: When importing videos for conversion, MacX processes extremely fast, for my 226.5-MB video, it takes only 2 seconds to finish the uploading.
—Converting speed: In my test, I tried to convert a 226.5-MB MP4 video to TS HD format, it takes 18 seconds and I can realize the distinctive gaps between MacX and other competitive tools.
*Editing tools
When converting videos, users are allowed to edit and rename the video. You can adjust audio volume, add subtitles, trim, crop & Expand, rotate, mirro, or add watermark. Also, you will check the "Before" and "After" to decide if you want to edit in this or that way.
*Output format
MacX Video Converter Pro supports all popular media formats, including video, audio and image formats. Also, you can choose low quality or high quality to compress the videos.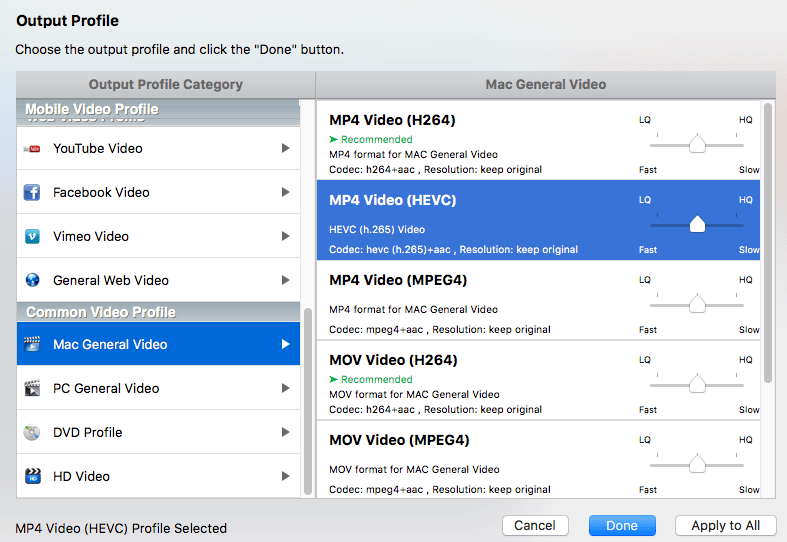 Photos to Slideshow
The feature of exporting photos to slideshow is quite useful, you just need to import the folder where you store all photos, then choose output to make it a slideshow. The whole process runs extremely fast, also you are allowed to edit, rename and output as the way you do to videos.

Download Videos
The YouTube Downloader is absolutely the killer feature of MacX Video Converter Pro, it is 100% free to use and supports to download videos from other online video platforms, such as Vimeo, Dailymotion, Vevo, Facebook, etc.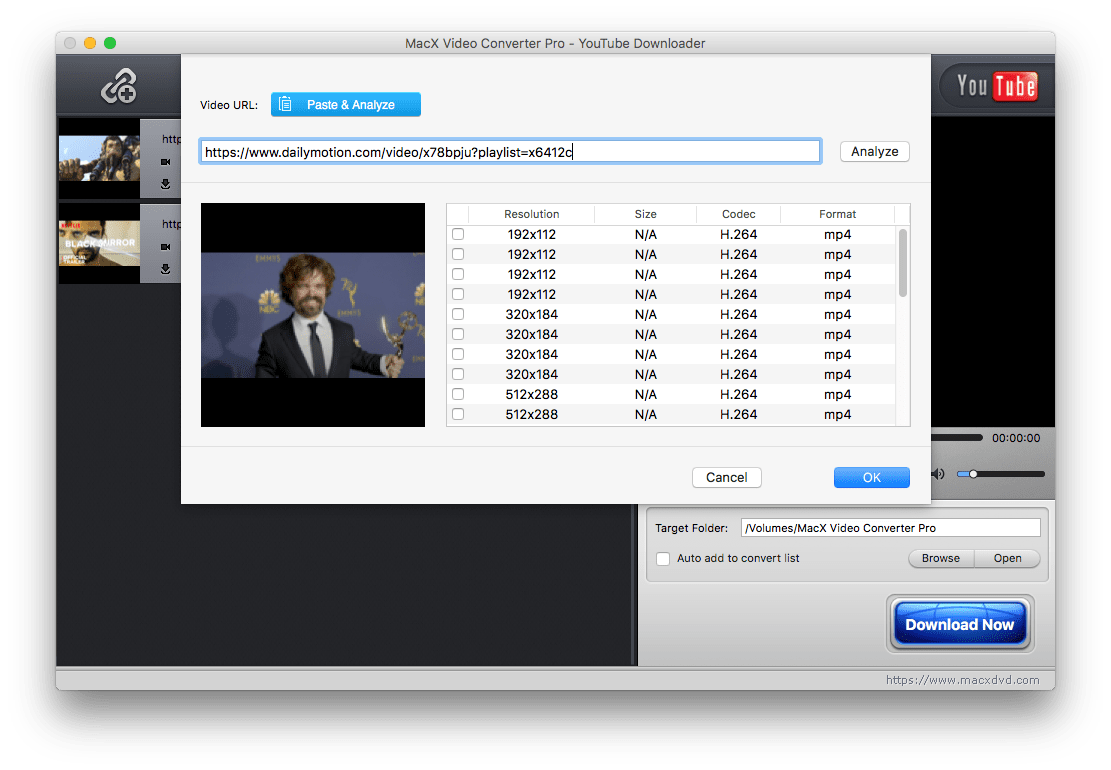 But according to my tests, not all videos can be downloaded by MacX, sometimes you just paste the URL to MacX, but nothing happens. However, at least 95% URLs in my tests can be downloaded successfully.
As for the downloading speed, it takes 16s to analyze a 4.24-Minute YouTube video and takes another 27s to download from YouTube (the output is 27.04MB). And in another test, it takes 10s to analyze a 22.33-Minute YouTube video and takes another 3.56-Minute to finish the downloading (output size 478.67MB). So, the downloading speed is not stable, but greatly depends on the output format and quality you choose.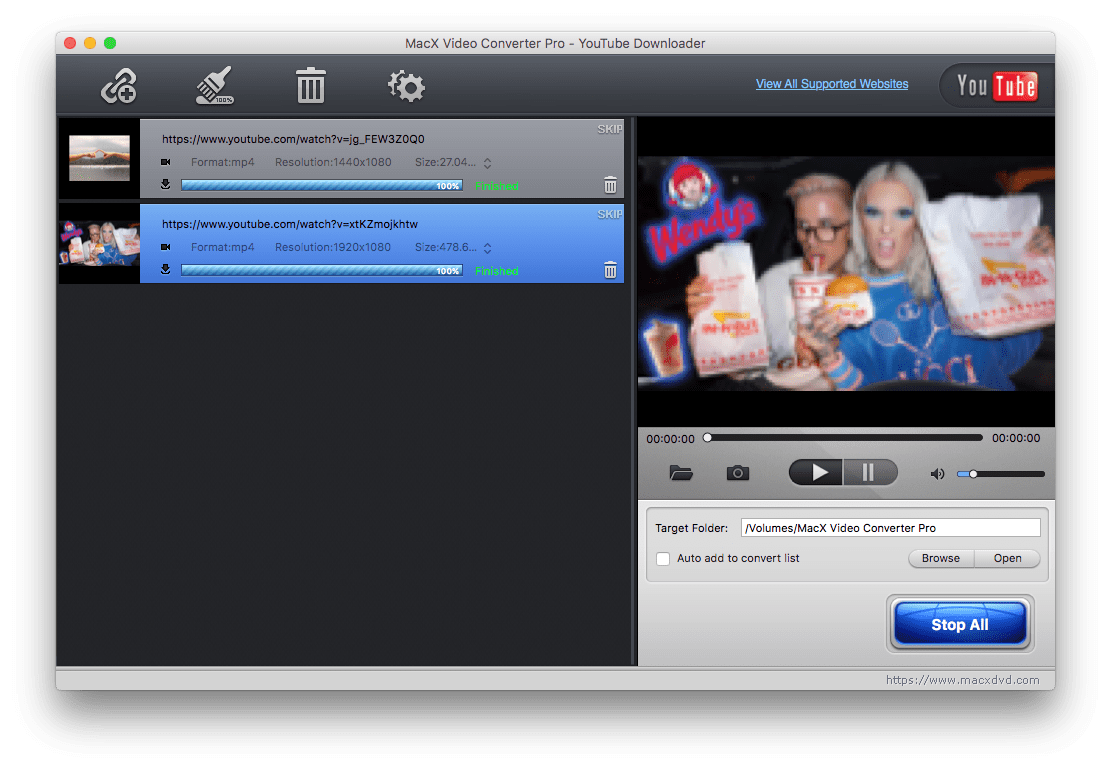 Record Videos with Camera
MacX also enables users to create video directly by using the Mac camera. It takes a while to connect to Camera for recording, but it is ease to use and convenient to import for further editing.
Screen Recording
There also builds a screen recorder in MacX Video Converter Pro, which is particularly useful for those users who want to create tutorial videos on mac. It is easy to control and can output high quality videos.
The Good
Excellent support on output format
Multiple features are open to users: download, record, create slideshow from photos
Fast downloading from YouTube or other websites
User-friendly interface
The Bad
Limited editing feature
A few of online videos cannot be downloaded sucessfully
What if MacX Video Converter Pro Not Working?
During my test, I encountered 1 crash when trying to change the defaulted output folder for my converted videos, the program crashed and quitted forcibly.
So, if MacX Video Converter Pro is not working, you can try to solve with following suggestions:
Relaunch the program if stops or crash for no reason.
Reinstall the program if it doesn't work properly.
Contact the MacX Video Converter Team.
Or find an alternative to MacX Video Converter Pro, such as Airy, YTD Video Downloader, Freemake Video Downloader.
Is MacX Video Converter Pro for Windows Available?
Yes, but it is called as Winx HD Video Converter Deluxe from Digiarty.
Digiarty develops multimedia tools for both Windows users and Mac users, and Winx HD Converter Deluxe is the one that functions as MacX Video Converter Pro but works on Windows platform.
But comparing with the Mac version, the Windows version doesn't allow creating videos from camera or do screen recording, for the reason that there is no built-in camera in Windows device. Also, you can free download videos and convert photos to slideshow even with the free trial.
Now, Have A Try Yourself!
So, the truth is, MacX Video Converter Pro does performs tasks 5X faster than others, it is worth a try, since it offers so many free yet practical features to manage your media files on mac.