If you want to make valuable moments in your life unforgettable and special, taking photos or shooting videos and then creating a slideshow video is now the trend. To create a remarkable slideshow video easily and efficiently is where Movavi Slideshow Maker shines brightest.
Today, we are going to give a review on Movavi Slideshow Maker, you will get to know every bit about it.
Summary of Movavi Slideshow Maker Features
| Function | Details |
| --- | --- |
| Editing Mode | 2 Modes (Quick and Manual) |
| How to Add | Drag and drop to timeline |
| Video Input | 3GP, ASF, AVI, DIVX, FLV, SWF, MKV, MOV, MP4, MPG, WMV, M2TS, M2T, MTS, TS, MPEG, M4V, MXF, OGV, QT, RM, RMVB, WEBM, WTV |
| Audio Input | AAC, AIFF, APE, FLAC, MP3, M4A, OGG, WAV, WMA |
| Image Input | BMP, DPX, GIF, JPEG, (.jpeg, .jpg, .jp2, .jls), MJPEG, JPEGLS, Netpbm formats (.pgm, .pbm, .ppm, .pam), PCX, PNG, PTX, SGI, TARGA (.tga), XBM, XWD, WEBP |
| Free Sounds | 24 |
| Free Music | 32 |
| Sample Videos | 10 |
| Background | 19 |
| Effect Packages | Purchase to activate |
| How to Apply Effect | Drag and drop the effect to clips |
| Filters | 170+ in 10 genres (Noise, Adjustments, Artistic, Blur, Color filters, Flying objects, Light leaks, Mosaic, Retro, Vignettes) |
| Transitions | 105 in 11 types (Parallax, Artistic, Fade, Blur, Circle, Blocks, Geometric, Ripple, Warp, Wipe, Zoom) |
| Titles | 46 in 4 styles (Basic, Artistic, Opening, Speech bubbles) |
| Stickers | 45 in 8 types (Sumer, Travel, Love, Sketch, Shapes, Highlight, Arrow, Sign) |
| Video Editing | Adjust color, crop & rotate, overlay, pan & zoom, animation, Chroma Key, Scene Detection, Add logo, Slow Motion |
| Audio Editing | Equalizer, noise removal, audio effects, beat detection |
| Clip Property Editing | Speed, fade in/out, reverse |
| Video Output | MP4, AVI, MOV, MPEG-1, MPEG-2, WMV, MKV, FLV, M2TS, WEBM, OGV, SWF, DVD, GIF |
| Export Setting | Video code, resolution, frame rate, bitrate, quality, channels |
| Upload | YouTube, Google Drive, Vimeo |
| Extended Features | Record video/audio |
| Restore Last Editing | Yes |
Movavi Slideshow Maker Review
Interface
If you are one among users of Movavi Video Editor, you may have noticed that Movavi Slideshow Maker has a similar interface to it. In essence, slideshow making is a part of video editing.
The interface is well laid out, consisting of Import, Preview and Timeline window. You can fast pick and apply an effect to the imported files.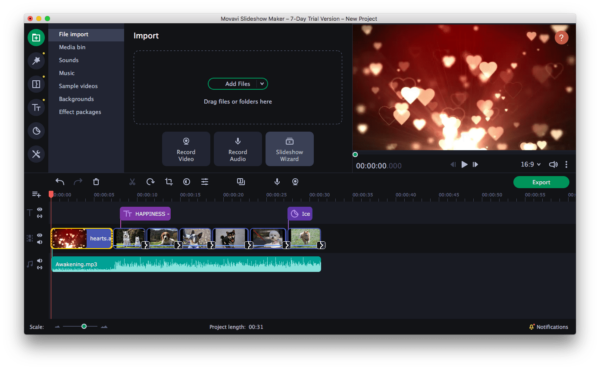 Also, its interface supports 14 languages, which helps users under different lingual background to understand and fully utilize this tool.
Editing Modes
Movavi Slideshow Maker offers 2 editing modes: Quick mode with Slideshow Wizard or Manual mode with full control of the editing process.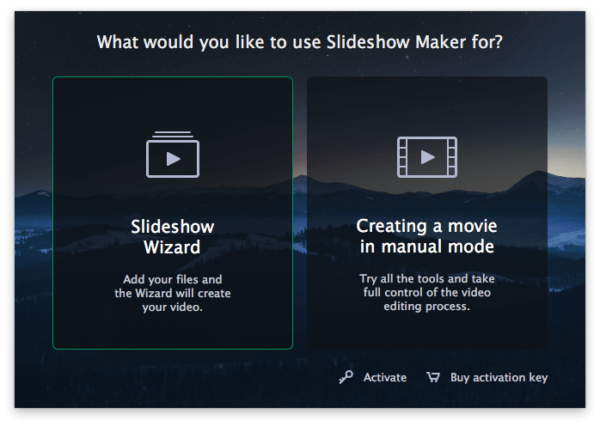 It takes 5 steps to make a slideshow video in quick mode by following the slideshow wizard: Add files>choose templates>add music>preview and add titles>export.
It creates a slideshow very quickly and easily, but you can only access to several templates.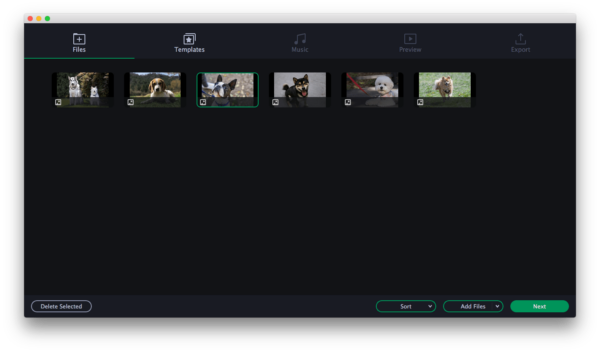 You can access to all tools and have a full control of slideshow making. The manual mode allows you to personalize your slideshow at a high level, but you may take a long time to pick a template from the long list of each menu.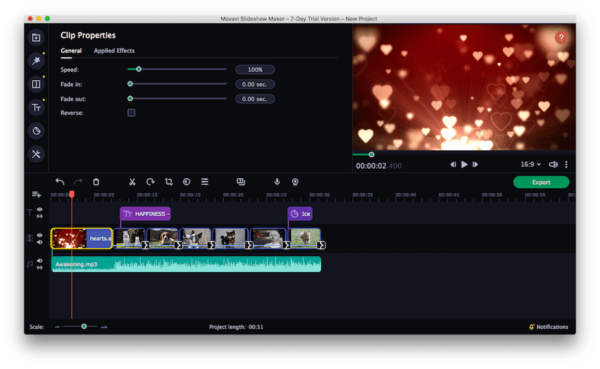 Video/Audio Editing
The video or image sources you want to turn to a slideshow need to be processed before adding any other effects, they are not perfect in the first place. While, Movavi Slideshow Maker allows users to adjust color, crop and rotate, add overlay, pan and zoom, animate, use Chorma key, enable scene detection, add logo and enable slow motion.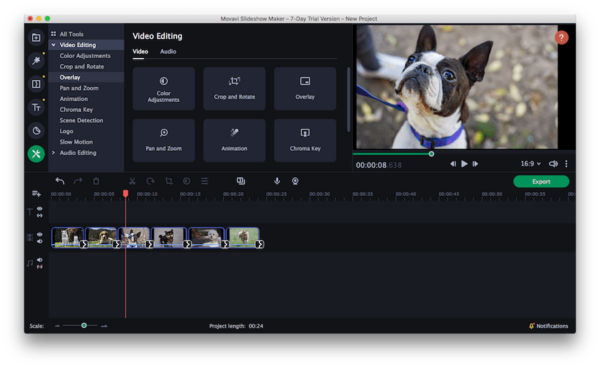 Also, you can edit the audios to match well with imported video or image. There are tools for equalizer, to remove noise, add audio effects and detect beat.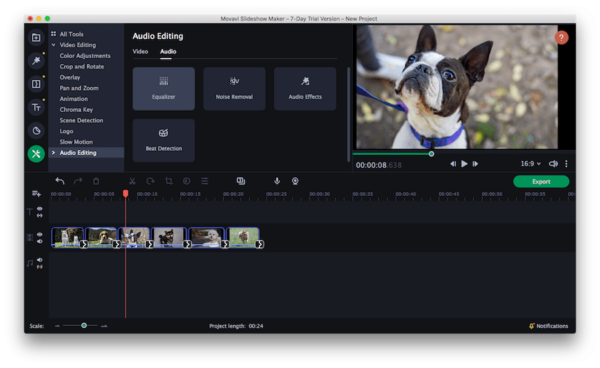 Media Pack
A slideshow can be presented in different ways, but it is always the media pack (templates) shapes a slideshow. We can add matching sound, music, filter, transition or title to make the slideshow videos one-of-a-kind. Movavis Slideshow Maker features unusually rich media sources to decorate your videos and images.
There are 24 built-in sounds for free use, including Applause, Beep, Aww. You can download more, but they are not free, you will have to subscribe.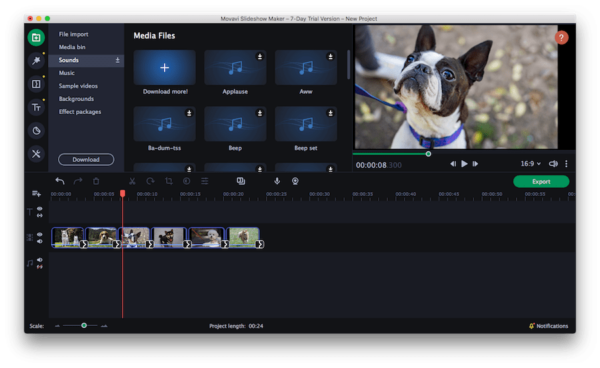 It is very convenient that Movavi Slideshow Maker offers free-loyalty music within the program, you just need to download the music, then drag and drop to add to the timeline, and edit basing on your need. There is music suited for different festivals or occasions.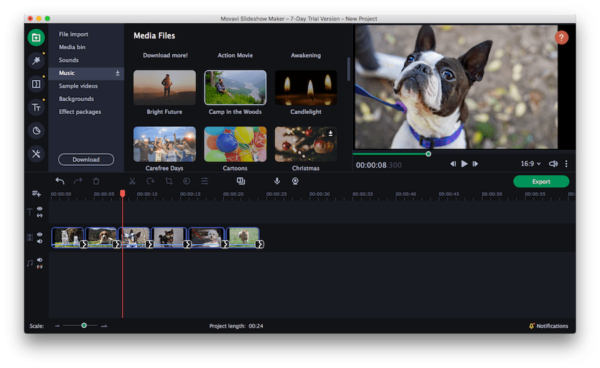 Adding filter is also a great way to enhance photos or make your images distinctive. Movavi Slideshow Maker offers 172 filters in 10 genres, which bring constantly fresh approaches to enhance and adjust your photos. There are filters for Artistic, Blur, Light leaks, Mosaic, Retro, Vignettes and so on.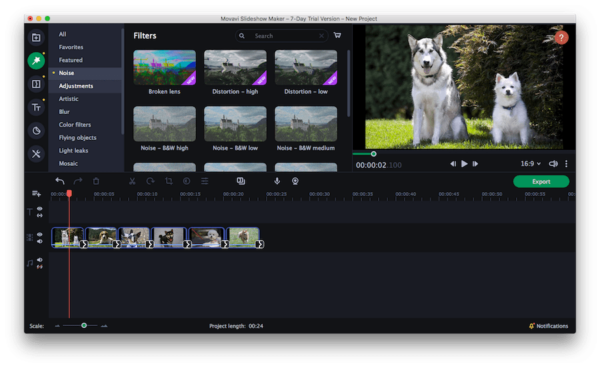 Want to add an intro to your video or create a video basing on ready-made video? Movavi provides sample videos, there are 10 samples for choose. Also, you can preview the video before adding to your own, even edit it to meet your needs.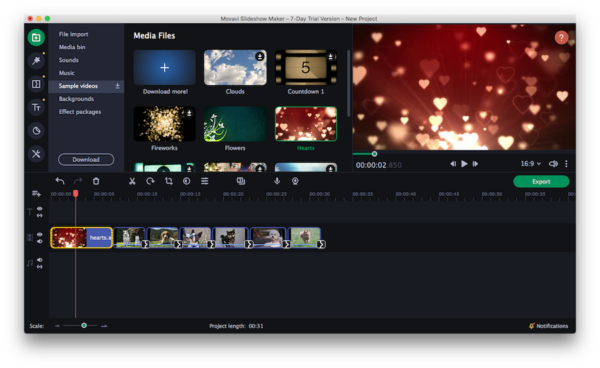 When shifting to a different scene, we use transition, it makes all the video clips combined in harmony. Movavi offers a multitude of transitions, including Parallax, Artistic, Fade, Blur, Circle, Blocks, Geometric, Ripple, Warp, Wipe, Zoom, etc. from common to special ones.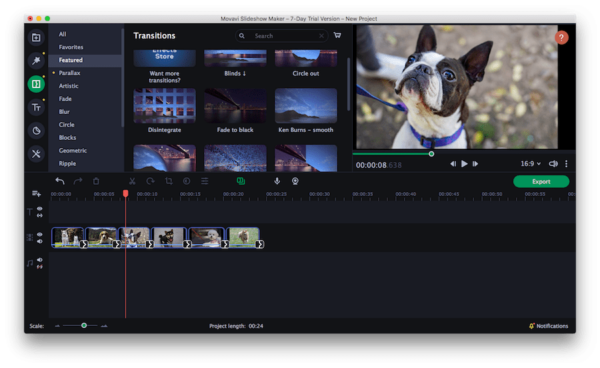 There also builds in a Titles toolbar to add headline, subtitle or text to your video, you can adjust the settings of the titles, change the location where to place texts, set up the duration to display titles on the video, etc.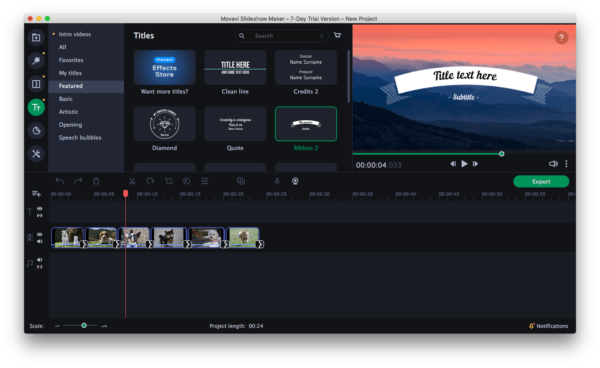 You may need to annotate or add particular signs to the video, there are 45 stickers from Movavi Slideshow Maker, you can even use them to hide a person or an object from the video.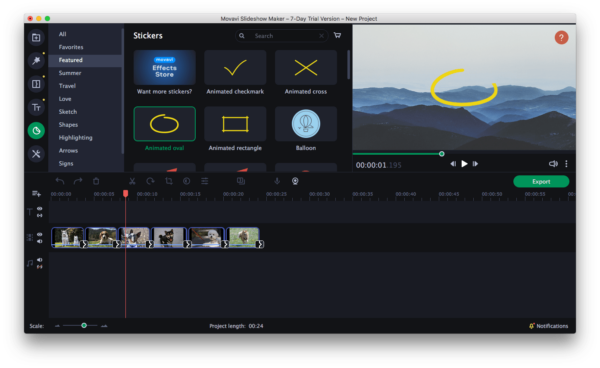 All the media sources available in Movavi Slideshow Maker can be downloaded for free and previewed before adding to your video.
Easy for Editing
The reason why Movavi Slideshow Maker harvested rave reviews in recent years lies in, it is easy to use. A great part of the tasks can be done by drag and drop.
Just drag and drop your video, image or music to the Timeline, a new track will be added and allows further editing.
Double click on a video or audio clip, the settings interface will be brought up and allows tweaking. You can set the speed, choose to fade in/out or reverse.
A sudden power off while editing a slideshow in Movavi or quit the editing without saving, Movavi can restore your previous work to save you from re-creating the video right from the start.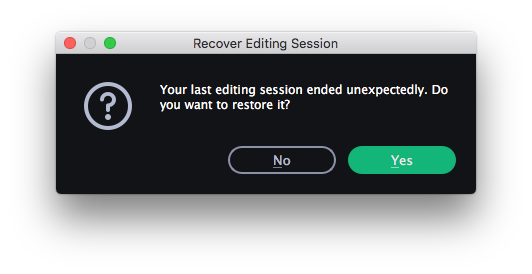 Input and Output
Format Support
Input
Video: 3GP, ASF, AVI, DIVX, FLV, SWF, MKV, MOV, MP4, MPG, WMV, M2TS, M2T, MTS, TS, MPEG, M4V, MXF, OGV, QT, RM, RMVB, WEBM, WTV
Audio: AAC, AIFF, APE, FLAC, MP3, M4A, OGG, WAV, WMA
Image: BMP, DPX, GIF, JPEG, (.jpeg, .jpg, .jp2, .jls), MJPEG, JPEGLS, Netpbm formats (.pgm, .pbm, .ppm, .pam), PCX, PNG, PTX, SGI, TARGA (.tga), XBM, XWD, WEBP.
Output
Video: MP4, AVI, MOV, MPEG-1, MPEG-2, WMV, MKV, FLV, M2TS, WEBM, OGV, SWF, DVD, GIF
Audio: MP3, WAV, AAC, FLAC, OGG, WMA
Suffice to say, Movavi Slideshow Maker supports to turn virtually all common videos, audios and images into a slideshow that can be played on different platform or device.
Still, when exporting a slideshow, Movavi enables export settings. Though you are recommended not to touch the defaulted settings, you can customize on your own machine if you have to.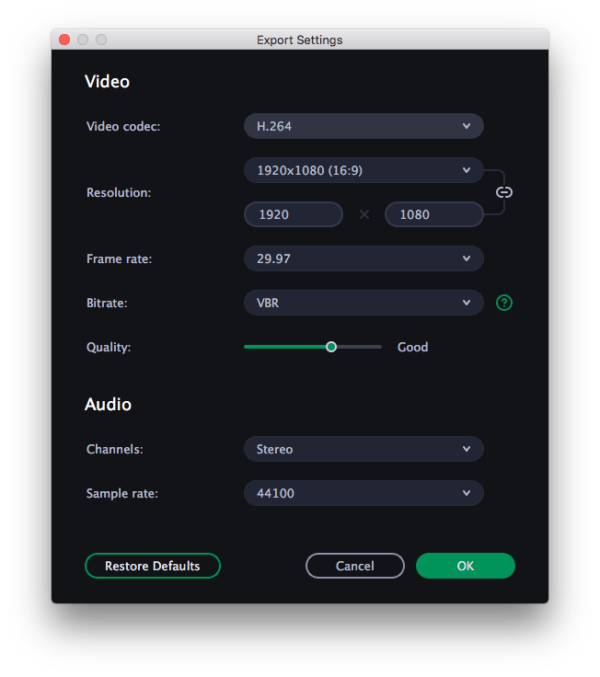 Upload
If you are running a YouTube Channel or posting videos online, after a slideshow creating, you can directly sign in YouTube/Google Drive/Vimeo within Movavi, then post immediately.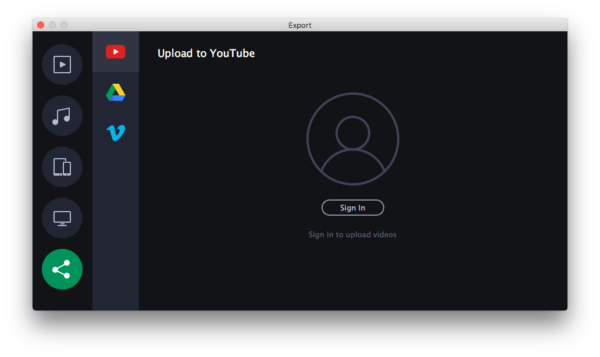 Movavi Slideshow Maker Free or Paid?
You have no choice, you will have to pay if Movavi Slideshow Maker proves itself a good tool to create slideshow. Why?
Because the free version of Movavi Slideshow actually can do nothing for you, it is designed only for evaluation purpose.
Free Trial Limits:
Add watermark
Save only 1/2 of each audio file
Offer 7-day trial period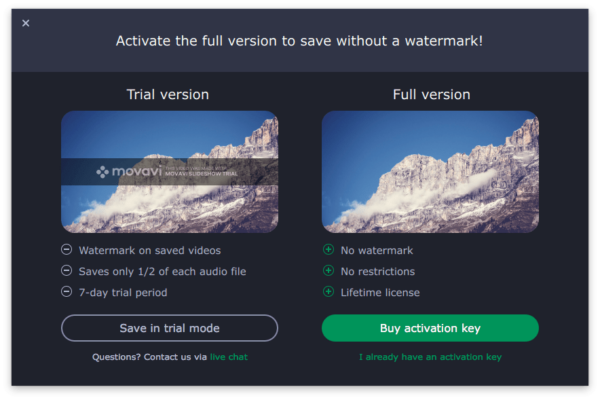 Movavi Slideshow Maker VS Movavi Slideshow Maker Plus
Movavi Slideshow Maker offers a Plus version too, it has the same features as Movavi Slideshow Maker standard version. but it has a wider collection of effects:
Standard version offers default effects pack only: 46 titles, 105 transitions, 45 stickers, 27 audio files
Plus version offers extended effects pack: 326 titles, 216 transitions, 165 stickers, 83 audio files
The Standard version can meet basic need to create slide show, but if you want to make yours unique, the Plus version with extended effects pack is a better option.
How to Use Movavi Slideshow Maker?
Install Movavi Slideshow Maker to your device (Mac or Windows PC).
Run the program, click Add files or directly drag and drop video, audio or image to Timeline for importing.
Click on the toolbars, choose filter or other tools, then drag and drop the filter or others to the place where you want to add, double click and edit the settings.
Click Play button to preview the slideshow before exporting.
Click Export button, choose output and tweak the output settings.