If removing image from a PDF document makes you feel the pain, you are not alone. Our first instinct to have this done might be to use the tool built right into our operating system, but there is none, even Preview doesn't let us delete an image in PDF.
Thankfully, Adobe Acrobat offers an efficient way to remove PDF images and all silver bullet solutions to deal with your PDFs. If you want to skip Acrobat, we've got you 2 more options following the first part.
Remove Images from PDF with Acrobat on Mac and Windows
There are plenty of reasons why users finally pick and install Acrobat on their Mac or Windows machine, maybe they've exhausted free options or may be it offers great functionality to deal with all PDF work. We promised you that Acrobat is surely worth a try.
Acrobat lets you remove images, texts, hyperlinks, text filed or anything in your PDF file. It has full control of your PDFs, you can create, export, edit, transform, organize pages, fill & sign, scan & ocr, protect, compare even flatten PDFs. The app runs across macOS, Windows, also lives online, all of its functions are within easy reach and use.
For monthly subscription, Acrobat offers 2 pricing: $14.99 and $24.99. The paid tier also gives you access to Adobe's other products too.
How to remove images from PDF with Acrobat?
Get a free 7-day free trial copy of Adobe Acrobat.
Fire up the app, drag and drop the PDF to Acrobat interface.
Choose Edit PDF from the right pane.
Right click on the image you want to delete, choose Delete.
Head to File and hit Save.
Remove Image from PDF Online Free
If you don't want to shell out for a monthly subscription for Acrobat or installing any new software to your machine, online free PDF tool sejda offers some of the same tools, including the function to remove image from a PDF.
Sejda PDF brings a lot to us. It can edit PDFs, for example, user are allowed to add texts, links, forms, images, signature and others. This service also gives you quick solutions to compress, break, combine, fill, organize PDF pages, convert and create PDF, but there is no deep settings or full controls over PDF as that from a professional PDF tool.
You can free remove PDF images on this website as long your PDF is less than 200 pages, or within 50MB. You can remove images from 3 PDFs for free per hour.
How to remove image from PDF online free?
Navigate to sejda-com/pdf-editor in your web browser.
Upload your PDF.
Then click on Image and the images will become editable, select the image you want to remove, click on the trash icon to delete it.
Hit Apply changes.
Download the PDF to your machine.
Acrobat Alternative: Remove Image from PDF without Paying Too Much
If you are looking for an Acrobat alternative with a balance between features and pricing, PDFChef is a rock-solid option. It is a light app breaking beyond the confines that a PDF editor must pack all tools, but it has all frequently used tools, including PDF creating, exporting, merging, splitting, pages organizing, text/image editing. This allows you to work on a PDF efficiently in a pinch and gives a brisk experience of working.
It offers free trial too, As a first step, you have to download a free trial copy from its website, install and fire up on your Mac or Windows machine. Next, drag and drop the PDF document to the app interface, from the menu bar, click Edit. Click and select the image you want to remove, then press Delete on your keyboard to remove it. When you are done with deleting the image, head to File and hit Save to keep the changes.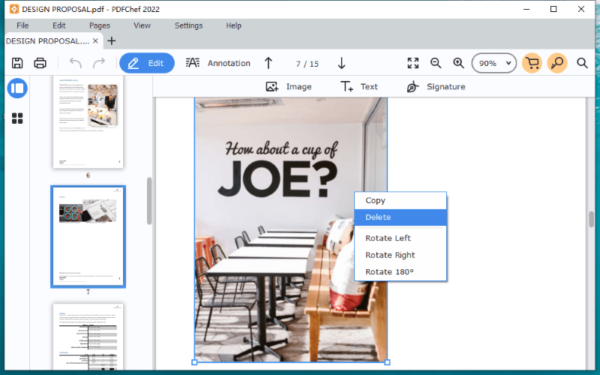 As with the tools we've mentioned, removing image from a PDF document means no big deal for you anymore. If you'd prefer the best option, have a try on Acrobat's 7-day free trial, you will get more.