The need of combining PDF files inevitably arises at the times when you have more and more PDF files stored on your Windows machine, you need to put them all in one file for filing, for sharing, for editing or comparing. Unfortunately, there is no simple built-in way to merge PDF files on Windows 11, 10 even 7.
But if you are thinking about downloading a powerful PDF app for doing all PDF-related tasks for you, or looking for offline & online free ways to merge your PDF files, we are here to help.
Be Simple! Get Help from The Best Windows PDF Merger
Want it to be simple? Need to handle PDF files regularly? Just get the help from a dedicated PDF tool.
If you are thinking about using a new program to handle your PDF files, you'd better opting for a more dedicated one, the one that features all basic and advanced editing tools, fast response, excellent input and output format support, anything you may need for working on a PDF. Is there any specific name coming to your mind? Like Adobe Acrobat.
Let's face it: Adobe Acrobat is the best PDF tool, if you are looking for an ultimate PDF tool, it should be Acrobat. Adobe makes PDF formats, provides powerful PDF tools across different devices. It reads PDFs and office documents, edit texts, images in the file, scans and OCR, organizes PDF pages (delete or add), annotates, compares, fill forms, exports as other formats, enhance security, anything you want to do to your PDFs, Acrobat offers help.
For a long time, the deal breaker for subscribing Adobe Acrobat is the high pricing, but today Adobe offers a more flexible pricing tier, starting from $14.99~$24.99 per month, users can cancel the signup anytime they feel there is no need to use Acrobat in that month and re-subscribe when they feel like to.
Steps to combine 2 or multiple PDFs into one with Adobe Acrobat
Get a 7-day free trial of Adobe Acrobat.
Head to Tools>Combine Files.
Add all PDF files that you want to merge, use the options to control the combined PDF. Hit Combine.
The combined PDF file will be opened in Acrobat, head to File>Save As. You can compress or add editing restricting password.
How to Combine Multiple PDF Files into One in Windows 11/10/7 without Acrobat
If you are not interested in being a long-time user of Adobe Acrobat at this moment, you can combine PDF documents on Windows 11 or earlier without Acrobat. Let's take a look at the best option we have for you.
PDFChef is the simplest PDF editor so far. Its appeal lies in its simplicity and versatility, setting it apart from those slow and buggy PDF editors. It has an intuitive interface and easy to use, also allows users to edit the existing texts and images. The Merge function is located on the main interface, allowing you to combine PDF files quickly.
How to combine PDF files on Windows without Acrobat?
Get a free copy of PDFChef on your Windows machine.
Click on Merge on the main interface.
Upload the PDF files you want to merge, then click Merge.
You can now save the file or edit the PDF document.
How to Merge PDF Files Free Offline
Being able to merge PDF files free but not in your web browser may sound more appealing to you, here comes another option, merge your PDFs with offline open source tool. Though such an open-source Windows PDF merger app doesn't have quite as many features or options as Acrobat or PDFchef, regarding PDF combining, this tool works as close to them. PDFsam Basic is the top choice.
PDFSam is a well-regarded open-source PDF tool on Windows system, with the features of splitting, merging, rotating and extracting PDFs. There are 2 PDF Merge modes: Merge and Alternate Mix, the first merges multiple PDF files, while the latter merges 2 or more PDF files and rearranges the page order.
The disadvantage of using this program is that, it combines files much slowly than other tools.
How to combine PDF files on Windows free without Acrobat?
Grab the free copy of PDFSam Basic on your Windows machine.
Choose Merge or Alternate Mix.
Drag and drop the PDF files to the workspace. Go down to the Merge settings, add your choice.
Hit Run button at the bottom of the interface. The merged file will saved in the output path.
How to Combine PDF Files Free Online
Web-based PDF tools are great solutions when you don't want to purchase or download anything new to your Windows machine. We like smallpdf and we will use as the example to show you how to combine PDF files online and for free.
The advantage of using smallpdf is that it combines fast and you can add a lot of files to combine. After combining your files, you can download or continue to use other PDF tools: compress, edit, split, rotate. The disadvantages of using it is that you can merge PDF files only, you cannot merge specific PDF pages, change the order. Also, the free version allows 2 free tasks per day, you need the premium version to get unlimited access.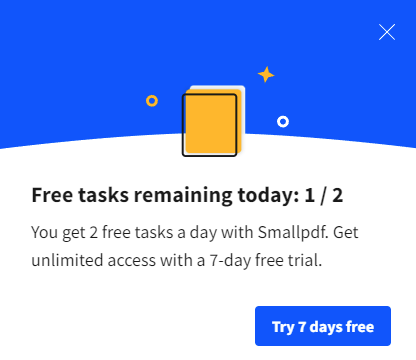 Navigate to smallpdf.com/merge-pdf in your web browser.
Drag and drop the PDF files into smallpdf workspace. Wait for the uploading.
Choose Merge files and hit Choose option.
Hit Merge PDF.
Download the combined PDF or edit it.
Final thoughts on PDF Merge
Combing multiple PDFs into one is an important way to organize your PDF pages and it can be done easily. You may not always want to merge PDFs with installing a great app like Acrobat or PDFchef, but knowing there are a lot of options out there gives you extra bit of insight to work with PDFs efficiently and helps you grow more skills.