With so much convenience that a PDF form brings to us, it makes sense that we use PDF forms very often and take further actions on these forms, like email it after filling out.
However, we might feel helpless when dealing with different types of PDF forms: fillable, not fillable, image. But that's OK, today is going to be the day you learn how to fill out different PDF forms and email with ease.
In All Cases: Fill Out PDF Form and Email Easily
It's more straightforward than you'd think to fill out a form and email it, no matter the PDF form is fillable or not, is image or not. Because we have an all-in-one PDF tool: Adobe Acrobat.
You can go directly and fill out fillable PDF form even with its free reader app, you can also prepare and fill out a non-fillable PDF form, even you can do OCR on a image PDF form and fill out it. Yes, it works in all cases. There are 2 easy ways to email the prepared PDF form, share and send to specified email address or add submit button and send to specified address that is convenient to collect information, no need to login into your email service and attach the PDF for sending.
It has the best Fill tools, but also offers following features: create PDF, export PDF, scan & OCR PDF, Edit PDF text/image/link/background/color/light/layer.
At first glance, Acrobat seems to be professional and expensive, but it is actually simple to use and affordable comparing to other similar PDF tools. It has all tools and options at your fingertip to edit the PDF, and gives a flexible subscription plan starting from $14.99/month or $24.99/month.
Now, fill out PDF form and share it via email in Acrobat
Open PDF form in Acrobat, head to Fill & Sign to fill out the form first.
Head to More Tools on the right sidebar, choose Share.
Add the email address that you want to send the PDF file to.
NOTES: The recipient will get a email with link of the PDF file that saved on Adobe Acrobat server, it allows downloading.
Or you can fill out form and directly submit to email address
Open PDF form in Acrobat, head to Fill & Sign to complete the form fields, then Close.
Head to More Tools on the right sidebar, choose Prepare Form.
Click on OK button to add the button at the end of the form or any place you like.
Click All Properties, configure the settings under different property tabs.
In the Options tab, choose Layout as Label and input the label name, then Close.
In the Actions tab, Select Action as Submit a form, click Add.
Enter mailto:(email address) as follows and choose Export Format, click OK.
Then you can email the PDF now. But Adobe Acrobat will ask your permission to send the email for first time.
NOTES:
For a non-fillable form, you can go to More Tools>Prepare Form, Acrobat will auto recognize all fillable fields and add the fields for users to fill out.
For an image form, Acrobat can recognize the file automatically and make it searchable, then you can follow above steps to fill and email the form.
How to Fill Out PDF Form and Email without Installing Any App
If your PDF forms are fillable, this work can be very easy instead, we can even do without installing any app. All we need is a Google Chrome browser.
Google Chrome is the most popular web browser to search online, it also lets users to open images or PDFs across different platforms. It can recognize a fillable PDF form and allows users to fill out as well.
Now, fill out PDF form and email it without app in Google Chrome
Launch Google Chrome, open a new tab, drag and drop the fillable PDF form to Google Chrome, now fill out the PDF form.
Hit the download button on the right top and choose to download with your changes.
Open your email service, for example Gmail, log in and click Compose, then add the PDF as attachment and send to a specified person.
How to Fill Out PDF Form and Email It Free
Here is another case: your PDF form is not fillable. Then you will have to prepare this form to be fillable first, or just add your texts to this PDF form in any available methods. For this, we have 2 options for you.
#1 Fill out PDF form online free
By now you've probably visited and tried some online PDF tools on your own. Finding the right online free tool to fill out a non-fillable PDF form can take time, so we took the time on our side and shows which one is the best way to fill out PDF form and email online free, use ilovepdf.
Navigate to ilovepdf.com/edit-pdf in your web browser.
Upload the file.
Click on A button to add the text and fill our your form.
Hit Edit PDF, then download the PDF to your machine.
Open your email service, log in, compose an email and attach the PDF for emailing.
#2 Fill out PDF form with native app
One of the most convenient way to fill out PDF form and email it is to fill out with native apps built into the system, now we will look specifically on Mac Preview to fill out a PDF form free.
Preview
It is for opening, marking up PDF files. We can fill out PDF form with Preview by adding texts to it, then send by email. It is easy to fill out a fillable PDF in Preview, you just need to open and fill in, then save the file.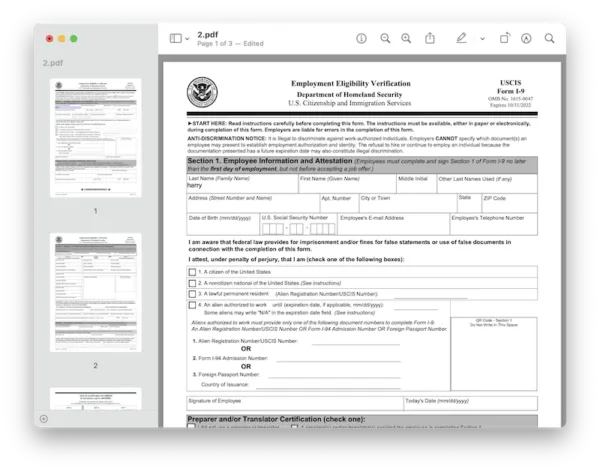 But if your PDF is not fillable, you can take following steps.
Open PDF form in Preview.
Click on Show markup tools icon.
Click on A icon to add texts to your PDF and complete the form.
Save the file.
Open your email service, log in and email the PDF as attachment.
Final Thoughts
Though Acrobat cost a bit more than other productivity tools, it has strong features that are surely better for your PDFs. But if you don't have specific requirements or expectations on a PDF form, free options like online tool or native apps should work well. It is all up to your needs.