Not content with the hair color in your photos or just want to change the hair color for different occasions? Let's change it!
Hair color change was not easy, it was Photoshop-level photo editing task, because only professional image processing tools like Adobe Photoshop or Lightroom is capable of changing a hair color elegantly. But today, it changing hair color becomes much easier and can be handled as you prefer.
The Best Photo Editor to Change Hair Color in Photo (Mac & Windows)
The photo editor that most of our users are looking for should be characteristic of equal simplicity and versatility. In other words, it should be easy to start with, but also features with advanced photo editing as users' skills grow. Luminar 4 is a perfect fit for this.
Luminar 4 from Skylum is a creative and AI-powered photo editing tool for both Mac and Windows users. It offers both basic and professional editing tools, even adds AI tools to enhance your photos with one click.
Luminar 4 Top Features
AI enhance photos
Change hair color, change eye color, replace sky, etc
Offer Essential/Creative/Portrait and Pro editing modes
Edit photos with Canvas to correct distortions, recompose photo or remove unwanted objects
Transfer photo to layers and create & manage the layers
Add Luminar effects
Crop, rotate, flip, zoom photos
Share photos to Mail or social media accounts
Export photos as major file formats
Batch process
Before & After Preview
How to Use The Best Photo Editor App to Change Hair Color in Photo?
Grab a copy of Luminar 4 to your Mac or Windows.
Click + to add photo for color change.
Click on Layer, click on … button and choose duplicate layer.
Then go to Essentials>Color, adjust the Saturation, Vibrance and Hue Shift as following.
Then click on Edit Mask and enable Paint tool, adjust the brush size, opacity or softness to paint the place where you want to change hair color.
Also, you need to use Erase to remove unwanted colors on the photo.
Use Paint and Erase tool to change hair color in details until you are happy with the result.
Then click on the Before and After button to view the result; Also, you can still go to Color>Hue Shift, change hair color and the changes will be applied to your photo.
Finally, go to File>Export to save the photo with hair color changed.
Also, you can check following hair color change video tutorial from Luminar.
How to Change Hair Color in Photo with Online Free Photo Editor?
(Notes: No online free photo editor is available to change hair color in photo, but we have a tip for you)
I am personally inclined to include some online free solutions for each of my topics, because they do work for some users. On hair color change, you can do it online, but actually, there is no free service is available, you have to upgrade and use the Hair Color Change feature.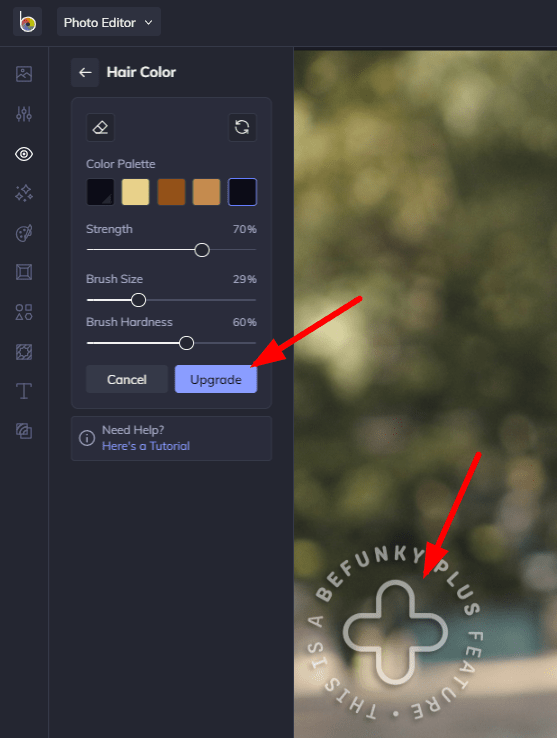 If you still insist on a go to change hair color online free, you can change hair color online first, then take a screenshot of the photo with hair color changes and save to your destination folder. Ribbet can be a good choice.
Change Hair Color with Online Free Photo Editor Ribbet
Ribbet is an online free photo editor, it offers basic editing features (auto fix, crop, rotate, adjust exposure/colors, sharpen, resize), allows adding effect, touchup, overlays, text, sticker, frame, etc.
Though Ribbet allows changing hair color, it is done by brushes, users cannot have a full control on the details. Also, it takes time to finish a hair color change.
Steps to change hair color in photo online free
Head to the website of Ribbet, enable Flash.
Then upload your photo.
Go to Touchup>Highlights, choose a hair color, adjust the Brush size and Fade, then add a new color to the hair. If you want to remove color from specific area, click on Eraser to erase.
Then take a screenshot of the photo with hair color change and save it. Otherwise, you will have to pay.