Both HEIC and PDF are image format, but PDF, with its extraordinary flexibility and security, has made itself a standard format in various of industries. So, sometimes, we may need to convert multiple HEIC images into one PDF.
We will look at 7 different HEIC to PDF converters for Mac or Windows, some can convert and merge, some are free to use.
How to Convert Multiple HEIC to PDF on Mac or Windows
In this part, we will focus on 2 excellent tools to convert multiple HEIC into one PDF, easily and quickly, while keeping high quality.
BatchPhoto
BatchPhoto is always the favorite bulk image converter for many of us. Not only supports the most image formats, it also edits images in batches with a lot of filters.
It can import and read 170+ formats, converting them into 50+ popular formats in a row. You can also enhance the photos to make them the same size/orientation in PDF output, to watermark, to apply effects, etc. When setting up a HEIC to PDF conversion, you can merge, compress, even upload files with ease.
The Reason to Use Pixillion
Read HEIC, Raw, vector, raster and 170+ image formats
Convert images into 50 image formats: JPG, PNG, PDF, SVG, EPS, HEIC, WEBP, TGA, etc.
Heic to JPG, Heic to PNG, Heic to GIF, Heic to PDF
Edit images: crop, flip, rotate, watermark, adjust color/brightness, add effects, etc.
Add preset to customize images
Bulk convert
Share and upload images via email or FTP
Available on macOS and Windows
How to convert multiple HEIC to PDF on Mac or Windows?
Grab a free copy of BatchPhoto, install and fire up the app.
Drag and drop multiple HEIC images to the app.
Head to Edit Photos, add a filter to the images, you can resize or rotate to make all the images same size and orientation in the PDF output.
Head to Setup, choose PDF as output format, tick the box before "create a single multi-page document from all photos" to merge HEIC to one PDF.
Hit Process button to convert and combine HEIC images to PDF.
Pixillion Image Converter
Pixillion is really a lightweight bulk image converter, which mostly makes it easy to convert an image, it can be raw image, JPG, PNG, PSD, AI, AAE, TGA, HEIC, WEBP, it can read and write on 50+ images. In addition to conversion feature, there are extra editing features: resize, flip, rotate, add watermark.
When setting up a conversion process, you can combine all images into one PDF or other supported format, also you can choose low quality image or use the compression preferences to keep your files small.
How to convert multiple HEIC to PDF on Mac or Windows?
Grab a free copy of Pixillion Image Converter, install and open the application.
Add all HEIC images into the app, you can click on each file name to preview the file in the right-handed panel.
Select output as PDF, also click on Encoder Settings to choose Low or Medium image quality if you want make the PDF smaller.
Select all HEIC images, the Combine feature will be enabled, click on the button.
Set up the HEIC combining, you can change the order to display HEIC image in the PDF file with your wanted order, then click Combine.
Name the PDF file and choose output folder to merge all HEIC images into one PDF with small size.
How to Convert Multiple HEIC to PDF on Mac Free
HEIC is Apple device friendly. If you want to convert and merge HEIC images into a PDF on Mac, Preview is the free tool you don't want to miss. Also, the Quick Actions feature on your macOS helps.
How to convert multiple HEIC to PDF on Mac in Preview?
Select all HEIC image, right click to choose open with Preview.
Select all HEIC image again in Preview by pressing Shift while selecting, go to File> Export Selected Images…
Choose PDF as the output format, also select Reduce file size from Quartz Filter, click Choose to convert all HEIC images into separate PDF format.
Open any of the created PDF file from your HEIC image, display Thumbnail on the left-hand sidebar, drag and drop other PDF files created from your HEIC images to Thumbnail area.
Then head to File> Save to merge all HEIC PDFs into one PDF on Mac.
How to Convert Multiple HEIC to PDF on Mac with Quick Actions?
Select multiple HEIC images, right click Create PDF.
Rename the combined PDF.
Best Free HEIC to PDF Converters for Mac and Windows
While in this part, we will focus on extra 3 ways to convert HEIC to PDF for free.
GIMP
GIMP is an open-source image editor with Export feature to convert a large collection of image formats to commonly-used ones, it can edit your HEIC images too, even work on the layers, but there is no Merge function.
Check out how to convert HEIC to PDF free
Download this free HEIC to PDF converter and setup on your Mac or Windows.
Open HEIC image in GIMP.
Head to File>Export As.
Head to Select File Type and pick PDF, click Export.
Google Drive
Your HEIC images may saved on Google Drive, the place to manage your file online free. Though Google Drive doesn't build a tool to open and convert a HEIC file, it directs you to use CloudConvert on the conversion. Essentially, converting HEIC to PDF on Google Drive is doing the task with CloudConvert, an online free service to convert lots of files. However, it converts HEIC to PDF only, there is no Combine feature.
Check out the steps to convert HEIC to PDF on Google Drive
Login in and head to Google Drive.
Click + and upload file to import the HEIC images.
Right click on the HEIC image and open with CloudConvert.
Authorize your access to CloudConvert with Google Account.
Click on settings icon for preferences or add more files to convert multiple HEIC images at one time.
Click Convert to save HEIC in PDF format online free.
Online2pdf HEIC to PDF
Still not give up the idea of finding an online free solution to convert and merge HEIC to PDF? We have one.
Online2pdf offers online free services to convert different formats of files, including media files, documents, archives, ebooks and so on. Not just converting files, it add presets to file conversion, so you can merge, compress even edit a little bit on the result. It has caps, maximum size 150MB for up to 20 files.
Check out the steps to convert and merge HECI to PDF online free
Navigate to online2pdf heic to pdf in your web browser.
Add all HEIC images online.
Choose Merge files in Mode, choose PDF in Convert to.
Click on Compression or Protection to add preferences to your PDF.
Click on Convert to combine all HEIC to PDF online.
Can I Convert HEIC to PDF in Adobe Photoshop?
Yes, you can, only when you install an extra plug-in.
Adobe Photoshop doesn't support importing HEIC images, you have to install 3rd party plugin to read. As you can check, I dragged n dropped a HEIC image to my Photoshop, it asked me to install a non-Adobe software to open this kind of file.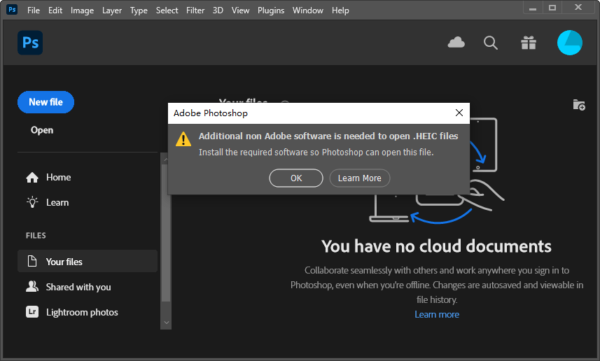 I clicked on Learn More and found such a plug-in even needs a payment: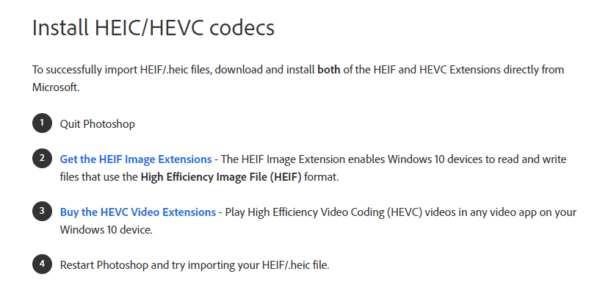 Therefore, I gave up converting HEIC images in Photoshop. But if you have subscribed Adobe Photoshop and handle HEIC images very often, you can think about paying for such a plugin.
Start your conversion
Personally, I recommend BatchPhoto or Preview to start the conversion, you can either get the best result or get the job comes from no charge.