Editing videos is a part of my daily work and I really spent a lot of time to land on the most appropriate video editor. Maybe you are looking for a video editor to create easy yet professional videos too and feel interested in Movavi Video Editor 2023 when get to know from Internet or from your acquaintance.
Here in this article, we will give review on Movavi Video Editor 2023 and contribute our best to help you evaluate if this is the tool you will need.
Is Movavi Video Editor 2023 Safe?
Yes, it is safe.
I have used this program for 3 years, I've never doubted its safety and there is no need to worry about the safety of Movavi programs at all. There is no malware or annoying plugin coming with this program. It is professional and an expert in video editing who won't put safety of your device at risk.
Is Movavi Video Editor 2023 Free? Any Limit for Free Version?
Movavi Video Editor 2023 is not free, but it offers free trial. You can use all the features, however it enforces following limits:
7-day free trial period
A watermark "Movavi Video Editor" is added to output video
Only half of the audio file is saved when saving as audio format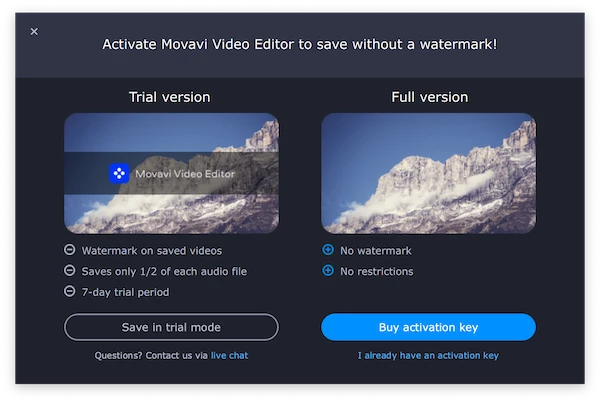 Is Movavi Video Editor 2023 Good? Check Out The Review
First, we will go through a feature list of Movavi Video Editor 2023 and review all the features, at the end of this part you will get to know if it is good and how good is Movavi Video Editor.
Features of Movavi Video Editor 2023:
Create videos from personal media files
Create quick video by following the wizard and using templates
Edit videos: split, rotate, crop, adjust colors, combine, stabilize, pan and zoom, slow motion, chroma key, scene detection, animate, highlight and conceal, add logo, remove background.
Edit video property (volume, speed, reverse, fade in or out)
Record video and audio
Capture screencast
Apply effects
Add transitions
Add titles
Add stickers, callouts and frames
Share videos to YouTube, Google Drive, Vimeo and Tiktok
Export video as various video or audio formats
As you can see, it accommodates all necessary tools we need for a video editing.
The Movavi Video Editor 2023 Review
Interface
Movavi is good at creating aesthetically pleasing apps, including Movavi Video Editor 2023. On the upper part of its interface, there are toolbars and tabs living on the top or on the left, tools will be expanded when selecting different tabs. You can preview sample videos, transitions, titles and so on in the video player on the right hand. While, you can add video, audio and image to timeline at the bottom, even dozens of tracks can be added and edited at one time to create your video. When adding media files, Movavi will detect the ratio and match them to the project.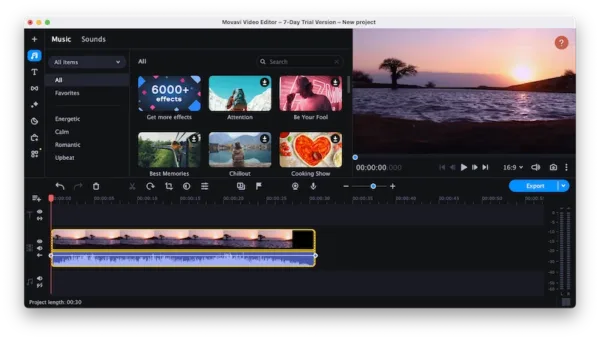 Slideshow Creation
Personally, I like this feature very much.
You just need to follow its slideshow creation wizard, add a video, choose a template, then add loyalty-free audios, a video will be quickly created.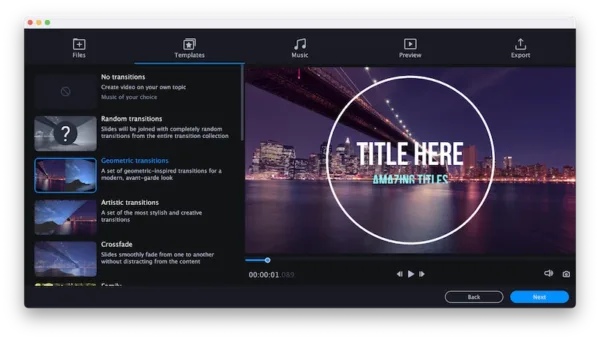 Editing Tools
Movavi offers all necessary editing tool to personalize your videos, including Rotate, Crop, Trim, Split, Stabilize, Adjust colors, Combine, Stabilize, Pan and zoom, Slow motion, Chroma key, Scene detection, Animate, Highlight & Conceal, Add logo, Overlay, Remove background. It is easy to apply an editing tool, just select a video, choose an editing tool and configure the settings.

Also, it allows editing video and audio properties, continuing its excellence on details treatment. You can adjust the speed or volume, normalize, change opacity, reverse, add fade in or out effect to a video, also can make synchronization, equalize, remove noise, add audio effects and detect beat in an audio file.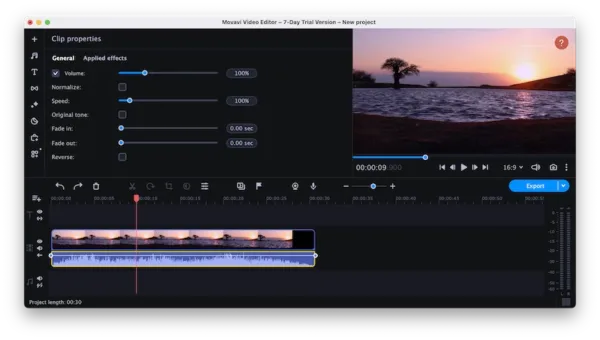 Creativity: Effects, Transitions, Titles and Elements
To personalize a video, you will need to add filters, titles, transitions or stickers. Movavi video editor offers templates in 2 ways, built-in free and paid from its store. All the templates are categorized by themes, the design really please our eyes and we are more willing to have a try on these effects.
The Effects (Noise, Adjustments, Artistic, Blur, Color filters, Flying objects, Light leaks, Mosaic, Retro, Vignettes, etc.)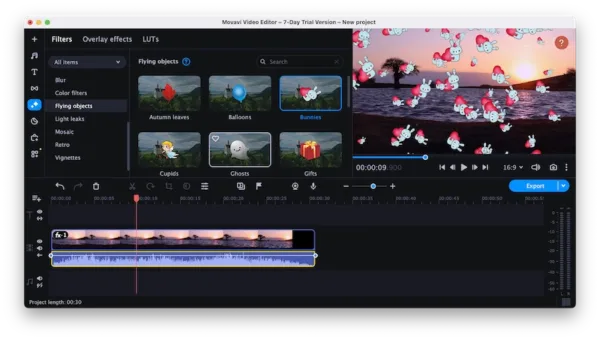 The Titles (Basic, Artistic, Opening, Speech bubbles)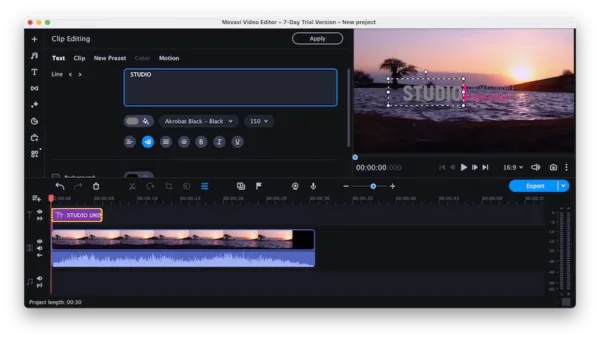 The Transitions (Parallax, Artistic, Fade, Blur, Circle, Blocks, Geometric, Ripple, Warp, Wipe, Zoom, With sound, Offset)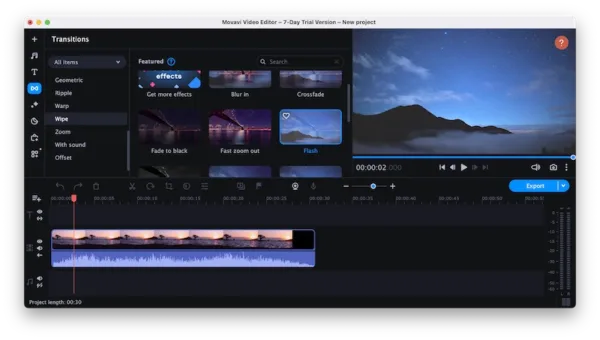 The Elements (Stickers, Callouts, Frames)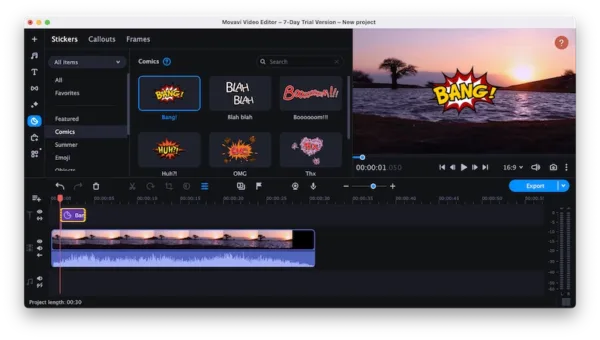 Sharing and output
Personally, I don't use this Share feature, but if you are active on video streaming platforms, this feature may help. It can upload your videos directly to YouTube, Vimeo, Google Drive even TikTok by sign in.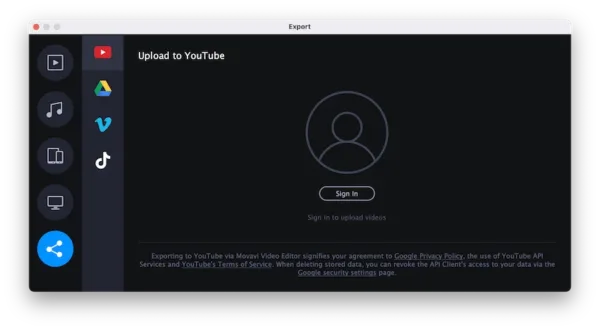 As for the export feature, it offers a wide range of output options, covering all highly frequently used video and audio formats. You are recommended not to touch the output settings unless you have special reasons. The program will show real-time file size when choosing different video quality, which is convenient for users who have a limited storage space.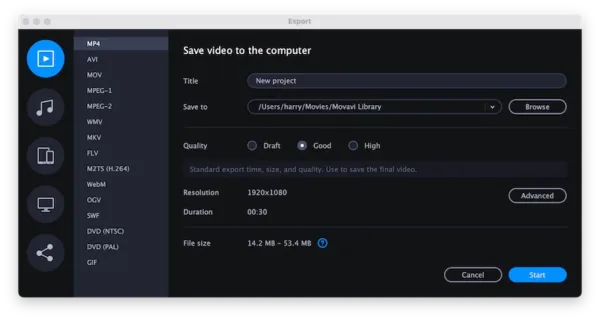 Tutorials
Unlike other tasks, video editing is not easy. To fully utilize a video editor, we need to get to know the program very well and learn how to perform a specific video editing task, a video tutorial will be of great help.
Movavi offers on-screen instructions when you first run it on your device, explaining where to add files and how to edit your videos. You can go to Help>Quick Start Tutorial to check the instructions.
Is Movavi Video Editor 2023 Good?
Yes, it is good, because of:
Stylish interface
Great for beginners and advanced users
Allow create quick videos by using templates
The Media bin allow quick access to projects
Accommodate all necessary editing tools
Record video and audio
Support animation, overlay, highlight, conceal, chrome key and lots of creative editing
Remove background with AI
Offer large numbers of filters, titles, transitions and stickers
Allow advanced editing on titles
Extended effect packages are available in Movavi Effect Store
Share and export edited videos
Video tutorials on YouTube
Support dozens of tracks on the Timeline
Save project for later editing
For myself, the reason why I finally became a Movavi Video Editor 2023 user is that, it is simple to use and the options are plentiful enough for me to create a professional and amazing video. So, yes, it is good. But before buying, have a try on its 7-day free trial version.
How Much is Movavi Video Editor 2023?
Movavi programs never come with a high price tag, you can always get Movavi applications with an affordable price. In addition, it offers 1-year license.
$49.95 for 1 year
$69.95 for lifetime
Movavi Video Editor 2023 VS Movavi Video Suite 2023
Movavi Video Suite is priced at $89.95, integrating Video Editor, Video Converter, Screen Recorder, Media Player and Split Movie into one kit. In other words, it offers 4 more features than Movavi Video Editor 2023: video conversion, screen recording, video playback and movie splitting. If you need to convert videos or record screen from time to time, the Movavi Video Suite is a better choice, with extra $30 dollar, you get 4 more tools.
Try The Free Trial First
Movavi Video Editor 2023 offers 7-day free trial and quick start tutorial for us to evaluate its features, to check if it is good, create a new video using this app and get your own conclusion.