In the age of video streaming, we often sit through videos to spend our time, gradually, we become more eager to create our own videos and share online. When sharing videos on different video hosting websites, there may be requirement on the aspect ratio or we just want to change the aspect ratio of our videos to make it look good.
Luckily, we have a few of solutions to help you change aspect ratio of video without cropping and also keep the quality. Follow this guide to change your videos now.
Change Video Aspect Ratio without Cropping or Losing Quality
Video cropping is used to cut unwanted parts, if you want to change aspect ratio only, not to crop the video, there a high-quality solution, using a good video editor.
Movavi has long been offering multimedia kits, its Video Editor is hot. Movavi Video Editor Plus is a versatile tool to create and edit videos at both basic and professional levels, without a steep learning curve. It edits video and audio, add effects and elements, record video and audio. This tool is mature enough to work across all OS, including Windows 11, 10, macOS Monterey, Big Sur, etc.
Movavi users are allowed to change the aspect ratio to 16:9, 4:3, 1:1, 9:16 and customize (in any wanted ratio).
To change aspect ratio of video without cropping and keep quality in Movavi:
Grab a free copy of Movavi Video Editor Plus, install and run the app on your Mac or Windows machine.
Import the video to media bin or drag n drop to the video track in Timeline.
Head to More Tools on the left toolbar, edit the video if needed.
In the built-in video player on the right side, click on the Aspect Ratio list.
Pick a wanted aspect ratio or customize by inputting the digit.
Click Export to save the video with a new aspect ratio.
Change Aspect Ratio of Video on Mac and Windows Free
Change Video Aspect Ratio on Mac
On Mac, the native free video editor iMovie can be used to change the aspect ratio of a video, but you have to crop the video and either choose widescreen 16:9 or standard 4:3 aspect ratio.
Open iMovie on your Mac.
Drag n drop the video to iMovie Timeline.
Click on Crop, using the cropping frame to change aspect ratio to 16:9 or 4:3.
Then head to File>Share>File to save the video with new aspect ratop.
Change Video Aspect Ratio on Windows
Windows gives its users a free way to change video aspect ratio too. The Windows Movie Maker app, it is a simple and free program helps to play and edit videos on Windows machine, though it discontinued to update since 2017.
Open video in Windows Movie Maker.
Go to Project, choose Widescreen or Standard.
Go to File>Save.
About Change Aspect Ratio of Video in VLC
VLC, the free, open-source, cross-platform media tool is widely used to play and convert media files by many users. It can play a whole host of video and audio formats, also convert to a lot of different formats. There is Edit feature added in VLC too, but most of the editing come into effects only when playing in VLC, these editing are not permanently, so is the aspect ratio change in VLC.
In other words, you can change video aspect ratio in VLC, but the changes won't be saved when playing this video in other apps. If you just need to play videos with a new aspect ratio, VLC is still a good option. You can open the video in VLC, go to Video>Aspect Ratio and choose one from the list to change the video aspect ratio.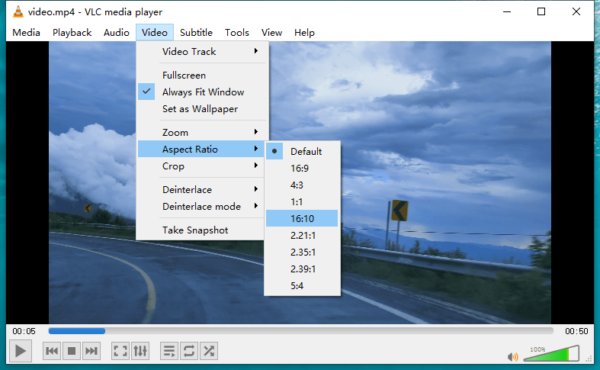 Change Aspect Ratio of Video Online?
How about changing video aspect ratio online? It sounds good, but here is the reality.
Without installing any app, you can change aspect ratio in your web browser, but when uploading a large video online, you have to wait with patience. Also, there are limitations, like watermark added to the video file, only 5-minute video is allowed, resolution is only supported in 720 P or poorer…
But if you don't care, KAPWING is the best option to change video aspect ration online without watermark, here are the steps:
Navigate to Kapwing in your web browser.
Upload the video online.
Click on the uploaded video, go to Crop.
Choose an aspect ratio.
Then Export the video with a new aspect ratio.
Remarks: KapWing allows to downloading 3 watermark-free videos per month only, and the video can be only saved in 720P or 480P, if you want to remove the limits, you have to subscribe the Pro version.