Raw image refers to the image file that contains all original image data captured by the camera sensor, different brands of camera use different raw image formats that should be opened in a proprietary viewer. Also, there is rare compression or changes onto the image, which makes them in high definition but with large file size.
Therefore, we might need to convert a raw image, for example in CR2, CR3, ARW, NEF or other raw formats to JPEG format. In this post, we will look at different ways to convert our CR2, CR3, ARW, CRW, NEF, SRF and other raw images to JPEG/JPG on Mac.
The Best Batch Raw to JPEG Converter Software for Mac
It is easy to find a raw to jpeg converter for Mac users, but if you need the fastest, bulk converting your raw images in seconds and with good quality, we pick BatchPhoto Pro.
BatchPhoto Pro Raw to JPEG Converter for Mac gives you an excellent experience on converting and customizing your raw images. Beside batch converting raw images to JPEG, BatchPhoto also helps users to adjust demosaicing, white balance, highlights, to add watermark, to resize, to crop, and so on.
BatchPhoto for Mac Standout Features
Read all kinds of raw images for different devices: arw, cr2, crw, dcr, dng, drf, erf, nef, nrw, orf, raf, rwl, sr2, srf…
Convert 170+ images, including common and raw image, like PNG to EPS, SVG to JPG, etc.
Export image as PDF
Allow editing images: rename, resize, crop, add effect, rotate, change DPI, replace color, add watermark, date stamp, comment, add frames or border, etc.
Upload and share image to FTP or social accounts
Batch conversion support
Preserve original image quality
How to batch convert CR2, ARW, NEF raw images to JPEG on Mac
Grab a copy of BatchPhoto Pro on your mac, install and open it.
Click Add Photos to import raw images in CR2, ARW, NEF or other formats for conversion.
Optional. Go to Edit Photos and customize your raw images before conversion on Mac.
Click Setup, choose output as JPEG.
Click on Settings to choose JPEG quality or color.
Head to Process and batch export raw images to JEPG on Mac.

Want A Simple Converter? Try Pixillion
Pixillion Image Converter from NCH Software is a compact and easy-to-use program to convert images, it allows to import more than 50+ image formats, which covers virtually all raw image formats for different devices. You can export the images into 20 output formats in batch. And it offers some basic photo editing features.
Steps to bulk convert Raw (CR2, CR3, ARW, NEF, etc.) to JPEG on Mac easily
Grab a copy of Pixillion Image Converter, install and open the application.
Click Add Files or Add Folder to upload raw images in CR3, NEF or other formats for conversion, also you can directly drag and drop raw images to the program.
Click on Effects to edit the raw image if you like to.
Pick JPEG as output format. Use the Compression settings to choose a JPEG quality and click Save.
Click Convert to turn all raw images to JPEG on your Mac.
How to Convert Raw to JPEG with macOS Built-in Tools (Preview, Photos, etc.)
In fact, you can view and convert raw images on a Mac easily, since it has built-in tools to do so, and there are 3 options.
Preview
Mac Preview is a free utility comes with MacOS to view and manage PDF or images. However, many Mac users just overlook the power of Mac Preview. Actually, it can open and export lots of raw image formats.
How to convert CR2/3, ARW, NEF raw to JPEG in Mac Preview
Right click on your raw images, for e.g, a CR2 file, open with Preview.
Right click all the raw images, choose Export As.
Then hit Options, choose JPEG as the output in the menu, and click Choose to bulk convert raw image to JPEG on Mac.
However, Preview cannot batch convert raw images in different formats at the same time, if you want to convert multiple raw images to JPEG on mac at one time, select raw images in the same format for conversion.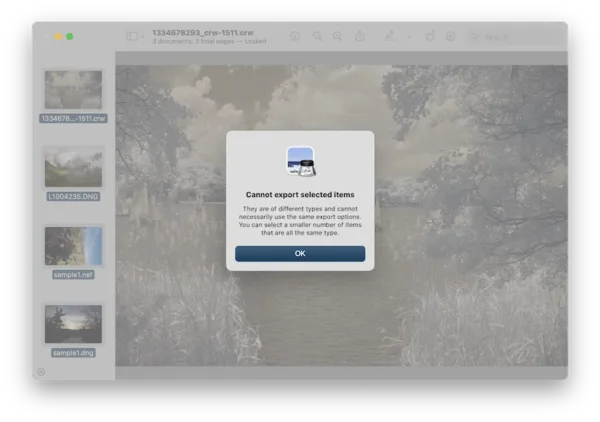 Apple Photos
Apple Photo app can open and export raw image to JPEG format on Mac too.
How to convert raw to JPEG in Apple Photos
Right click on raw images and open with Photos app.
Import All New Photos to Photos app.
Select all raw images and head to File>Export>Export xxx Photos.
Select JPEG format and click Export.
Select output folder to save the JPEG images on your Mac.
Quick Actions
It is a right-click action to convert selected images to JPG, PNG or HIEF, also you can choose image size and preserve metadata.
How to convert raw to JPEG on Mac without software
Select all the raw images, right click Quick Actions>Convert Image.
Choose format as JPEG.
Click Convert.
Convert Raw CR2, CR3, ARW, NEF to JPEG on Mac Free
If you want more features that absent from macOS native tools, there are also 3rd party raw to JPEG bulk converter freeware, you can access to them offline or online.
XnConvert
XnConvert is a multi-platform freeware to bulk convert images and edit images with 80 actions. It supports 500 image formats and can export image to 70+ formats. You can free download this app to convert raw images to JPEG in bulk.
Steps to convert raw CR2, CR3, ARW, NEF to JPEG on Mac free 
Get a free copy of XnConvert.
Drag and drop all raw images to the Input window.
Then go to Output window, choose JPG output format. Click Convert.
Darktable
It is an open source raw image manager and workflow application, you can import and export a collection of raw images to different formats, with destruction to the color, resolution.
Steps to convert raw to JPEG on Mac free
Grab a free copy of darktable, fire up on your Mac.
Click Add to library> "+", import the raw images in CR2, CR3, ARW, NEF or other formats.
Select all the raw images, go to Export>file format, choose JPEG.
Then click Export button.
CloudConvert
It supports a lot of raw formats, including 3FR, ARW, CR2, CR3, DNG, MRW, NEF, RAF, RAW, etc., also allows users to change image size and adjust JPEG quality.
Steps to convert CR2, CR3, ARW, NEF raw to JPG on Mac Online
Head to cloudconvert.com/raw-to-jpg in your web browser.
Click Select File to upload raw images, or drag and drop the raw images onto the webpage.
(Optional) Tweak the setting to customize your JPEG output.
Click Convert to upload and process the raw images.
Download the JPEG images once the conversion finishes.

iloveimg
It converts CR2, RW2, NEF, ARW, SR2, ORF, PEF, RAF, Raw to JPG format for free. Also, there are free tools to compress, resize, crop, convert and edit your images.
Steps to convert raw to JPG on Mac Online
Navigate to iloveimg.com.
Upload the raw files.
Hit Convert to JPG.
Download the JPG images to your Mac.
The Bad
Online raw to JPG converters are free, but often sacrifice the image quality during the conversion. And here is another thing for sure, you have to convert your raw images online with great patience, because raw images are often in large size, while uploading and processing large files online is always slow and may send back error messages sometimes.
How to Convert Multiple Raw Photos to JPEG on Mac in Adobe Photoshop/Lightroom
Photoshop
For user who have installed Adobe Photoshop, the greatest photo editor so far, you can convert single or multiple raw to high quality jpeg format, like NEF, NRW, DNG, ARW, SRF, CR2, CR3 to JPEG.
Steps to batch convert CR2, CR3, ARW, NEF raw to JPEG on Mac in Photoshop
Run Adobe Photoshop on your Mac.
Open a raw image in Photoshop by drag and drop to the interface. Click Open to import.
Head to Window>Actions.
Create new set and name the folder, e.g., Raw to JPEG.
Then create a new action.
Name the action and click Record to start recording the action you want to automate.
Switch to the view of your raw image, go to File>Save as, choose JPEG as output and adjust the JPEG settings as the way you convert single raw image in Photoshop.
Click the Stop button to stop the recording.
Now, head to File>Automate>Batch.
Choose the Raw to JPEG set and action, then select source folder where you save the raw images or file and specify the destination folder.
Then Photoshop will open all raw images and save them all to JPEG on Mac in batch.
Lightroom
Lightroom, the best photo-workflow software and AI powered to edit photos easily, allows convert single or multiple raw images to JPEG on Mac too. Here is the tutorial to convert multiple raw images to high quality jpeg on Mac without using Photoshop:
Install Lightroom on your Mac, if you don't have it.
Click File> Add Photos to import a raw image. To convert multiple raw images one time, press Shift and select all added photos by clicking on the thumbnails.
Then head to File>Export. Select JPG as output format and use the options if you need.
Click Export photo to convert raw to jpg on Mac in Lightroom.
How to Convert Raw to JPEG on Mac without Adobe Photo Editor?
There is an alternative to convert raw to JPEG without Adobe Photoshop but still allows editing, that is to use Movavi Photo Editor. It can enhance photos, erase objects, remove background, restore old photo, retouch, add effects, add text or insert image, resize, crop and convert images, including raw photos. But it cannot batch convert raw photos.
Steps to convert raw to JPEG on Mac without Adobe Photoshop
Grab the free trial of Movavi Photo Editor.
Open and select a raw photo.
Head to File>Save as.
Select JPEG as output format, click Save.
Paid VS Free
If converting images is a big part of your daily work, if you work with images in lots of formats, you should install a paid bulk image converter, it is fast and give the best quality. If not, macOS built in raw to JPEG converters are good.