In different stages of our life and education, we will apply for or receive certificates, for example, a birth certificate, a health care certificate, an education certificate, a technology/skill certificate and so on. Sometimes, we need to edit the name, the title, the date or other information on a certificate, especially on a certificate template, or fill out it.
In this post, we will focus on exploring how to edit a certificate in PDF or in image, or any other format. 6 ways will be listed here, including solutions to edit name on certificate online free.
Best Certificate Editor: Edit Anything on Certificate in PDF or Image
A certificate can be a digital editable document in PDF, also can be a scanned file in image that doesn't allow editing without the assistance of OCR. Most of the time, we just need to edit the name on a certificate and keep others untouched. Using a photo editor to edit certificate requires 2 steps: erase the original texts without changing background, and add new texts. It needn't to be so, we have the best certificate editor to modify anything in the certificate but keep its original look.
For most people, they have heard and had the faith in Adobe Acrobat, which is the best industry-standard-level PDF editing tool so far. Anything on the PDF, it becomes editable and customizable in Acrobat, we can freely edit texts, images, links, media objects, set up actions, add editable fields, embed buttons. It packs all tools and options we may need to handle a PDF. It even lets us edit scanned files (images) easily with an auto OCR process. Additionally, Acrobat can open a lots of documents, including Word, Excel, PowerPoint, Text, screenshot, scans, web page, blank page or clipboard, that's to say, whatever the format you use to save your certificate, Acrobat can open and edit it professionally.
With Acrobat app, we can easily change the name, date, title or other details on a certificate, even it is scanned. Also, we can insert image, signature, stamp, background text, adjust the light/size/layout/color, fill out the certificate with preferred font, create a fillable certificate template, etc. Not only for editing certificates, it is also a perfect tool to edit bank statement, pay stubs, resume, etc.
The biggest problem of installing this PDF editor might be the price tag before, but now with only $14.99~$24.99 per month, we can have full access to its features and cancel at anytime we want to hold.
How to use Adobe certificate editor to change name or other texts in a certificate?
Get a free copy of Adobe Acrobat, it has a 7-day free trial, install and fire up the app on your machine.
Open certificate in PDF or image format with Acrobat.
Head to Edit PDF. To edit a certificate which is scanned, Adobe will auto OCR process and make the file searchable.
Click on Edit, edit the name, date, title or other information on the certificate.
Also, you can use other tools to edit the certificate.
Hit Save button to finish the editing.
Tips: to edit certificate in Word or other formats, head to Tools>Create PDF, upload the certificate and save in PDF first, then edit the certificate in Acrobat with its editing tools.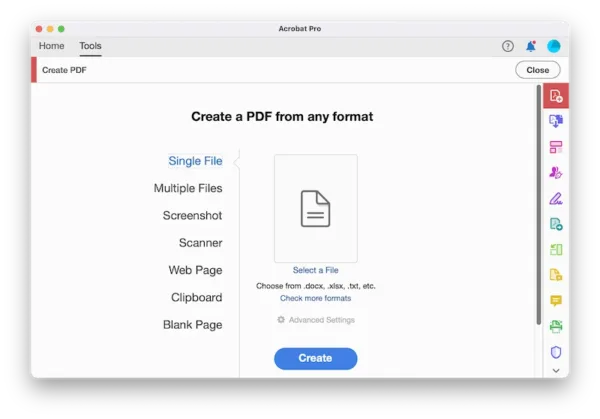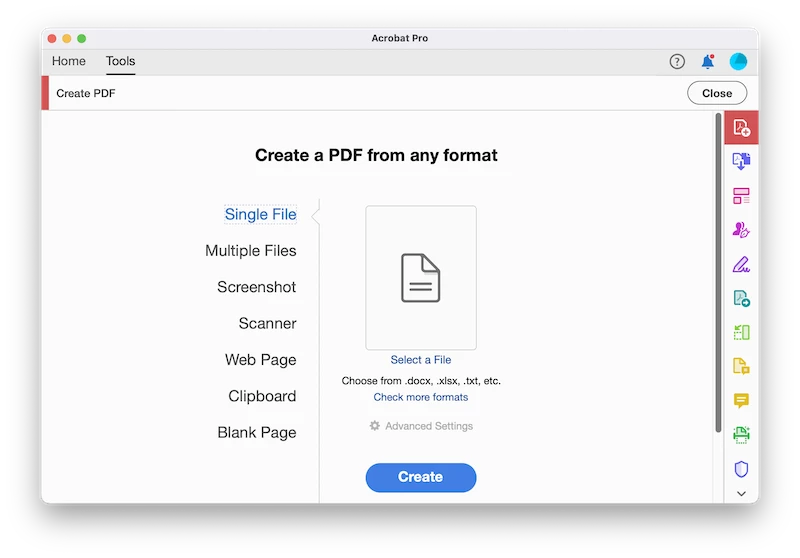 Edit Name on Certificate Online Free
If you step outside the offline selection, there are online ways to edit PDF certificate for free.
As you might have suspected, online certificate name editors have limits. Yes, the limits do exist, but if you just want to edit one or two certificates, they are helpful still.
Pixlr
It is an online free photo editor packing a large collection of tools, including transform, animate, adjust layout, add text, insert image, cut, enhance, add effect, erase and clone, retouch, draw, etc. In addition, it allows export certificate as JPG, PNG, WebP or PDF.
Limits:
How to edit name on certificate online free?
Navigate to Pixlr X photo editor online.
Click Open image and upload the certificate image.
Hover to Retouch>Heal/Repair>Object.
Brush over the name that you want to remove from the certificate, wait a moment, the name will be erased with original background kept.
Hover to Add Text, add a new name to the certificate, format the name with left-sided tools.
Hit Save button, choose an output format and save the certificate to your machine.
Photopea
When if you need to edit name on certificate more than 3 times that Pixlr allows, here is an alternative, Photopea, though it is not as easy as editing certificate name in Pixlr, it can change the name or other texts in it indeed, also it has professional tools as Adobe Photoshop to do advanced photo editing.
Limits
Traces can be found when erasing name from certificate
Not easy to use
How to edit name on certificate online free?
Navigate to Photopea online.
Upload the certificate image.
Hover to Brush tool, right click on it and choose Healing brush tool.
Hold Alt or K to choose a source and brush over the name to erase it.
Hover to Type tool, add the new name onto your certificate, there are text tools on the top to customize the certificate name.
Hover to File, Save and Export the certificate to your machine.
Sejda
Sejda PDF Editor is an online way of editing PDFs, which allows you to edit text, edit image, fill and edit forms, sign, markup, draw on PDF. It also has 30+ tools helping you convert, resize, create, organize PDF documents. However, you can only free edit PDF certificate up to 200 pages or 50 MB, 3 tasks per hour. Also, if you want to edit PDF certificate with same font and not messing up the formatting, Sejda may disappoint you, int this case, just try Adobe Acrobat.
How to edit a certificate in PDF online free?
Upload PDF Certificate to Sejda PDF Editor.
If there are fillable fields, you can edit the text directly.
If you want to replace text in the certificate, use the Whiteout tool to erase the texts first, then go to Forms and add text box to edit new texts in the box.
Apply the changes and download the certificate to your machine.
Notes: to edit scanned PDF certificate with online free tools, you can try onlineocr or convertio to convert scanned certificate to editable Word first, then edit in Word app and save as PDF.
How to Edit a Certificate in Adobe Photoshop
Adobe Photoshop uses a professional approach to edit photos and PDFs, it is widely used by power users. If you have Photoshop installed on your machine, take the following steps to edit a PDF certificate:
Fire up Photoshop on your machine.
Drag and drop the PDF or image document to Photoshop as Pages.
Choose the Lasso selection tool and select the certificate contents that you want to replace with.
Right click on the Lasso selection area and choose Content-Aware Fill to remove the texts.
Then click on OK to apply the erasing.
Click on Text tool, add texts to certificate and edit the property.
Marks: Photoshop process PDFs the same way as editing photos, basing on layers, you have to erase the existing texts first, then add a new text layer and edit the certificate.
A Free Certificate Name Editor for Mac
If you are a Mac user, Preview offers a free solution to edit a PDF or image certificate, but the procedure is not straightforward, here you can follow these steps to change name in your certificate:
Open the certificate in Preview on your Mac.
First, you have to remove the name and keep its original background. Just find a source on the file to clone, select it when your mouse pointer becomes a cross-hair, copy (Command+C) and paste (Command+V) it to the place where you want to change certificate name.
Remove the previous name step by step if the background is complicated with different layers. Find another source and copy & paste to cover the original background.
Now you have removed the previous name with original background kept.
Show the markup tool, click on Text, add the name you want to change on your certificate. And use the Text Style tool to customize the certificate name.
Hover to File>Save.
If you are looking for a certificate editor that you can take full control over, Acrobat will suit you well, it is easy to use and still has plenty to offer, there are video tutorial and busy community forum you can turn to if you need help for specific PDF task.