Movavi Screen Recorder is the program created to take screenshots and record videos without fuss. With its intuitive interface, gentle learning curve and best-in-class features, it becomes the top choice for both professionals and amateurs video makers. But still, some of you have doubts toward this tool and want to have a comprehensive evaluation on this program without installing and advanced purchase. Therefore, this Movavi Screen Recorder 2022 review is just for you.
You will get to know Movavi Screen Recorder in following aspects:
Movavi Screen Recorder 2022 Full Features
For those who haven't start the trial, we list the full features of Movavi Screen Recorder 2022 as following:
Record screen
Record from webcam
Record audio only and save in MP3 format
Take screen shot
Video editing: highlight, trim
Screenshot editing: add text, arrow, line, highlight, copy to clipboard
Export recordings as MP4, AVI, GIF, MOV, WEBM and MP3
Set up schedule to start recordings
Share screenshot and recordings online or to app
Movavi Screen Recorder Free Version VS Paid Edition
Movavi Screen Recorder offers the free trial edition, but does this free version meet our full demands on screen recording? It indeed allows users to access to its full features and you can use it free for lifetime, but there are limitations:
A Trial watermark is added to the output videos
You cannot add a description or tags to your video before sharing it on YouTube
Well, the watermark is absolutely the reason persuading you of a paid edition, it covers a large dimension of the video and sits in the center of the video, which basically turns your screen recordings to be nothing useful at all. Therefore, like other free trial programs, it is offered for evaluation purpose. If the features and performance of this free version doesn't disappoint you, you are always recommended to get the paid version with following price:
$34.95 for 1-year subscription/1pc
$49.95 for lifetime/1p
Does Movavi Screen Recorder Have A Watermark?
As we mentioned, Movavi Screen Recorder free trial version has a watermark on the output recordings, if you want to remove Movavi watermark, you will have to pay for it.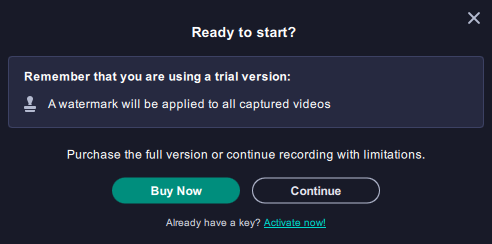 Is Movavi Screen Recorder Good?
Now, let's dive into the Movavi Screen Recorder 2022 review by trying its features and testing the performance, and to find out how good is Movavi Screen Recorder 2022.
Preview of Movavi Screen Recorder 2022 Goods
Record screen, record from webcam, record audio only
Edit recordings: highlight, cut
Recordings are instantly ready for editing and exporting
Preserve video and audio quality
Won't slow down your computer when recording
Export recordings in MP4, AVI, GIF, MOV, MOV, WEBM and MP3
Set up schedule to initiate the recording tasks automatically
Take screenshot and allow editing
Control Panel (Interface)
When double clicking to launch the program, the program enters into a mini-screen control panel mode, with toolbars living on the edge of the right-handed screen of your device, you can click on the right arrow to hide or show the toolbars. And when you start taking screenshot or recording video, the control panel will hide until task is completed for further editing.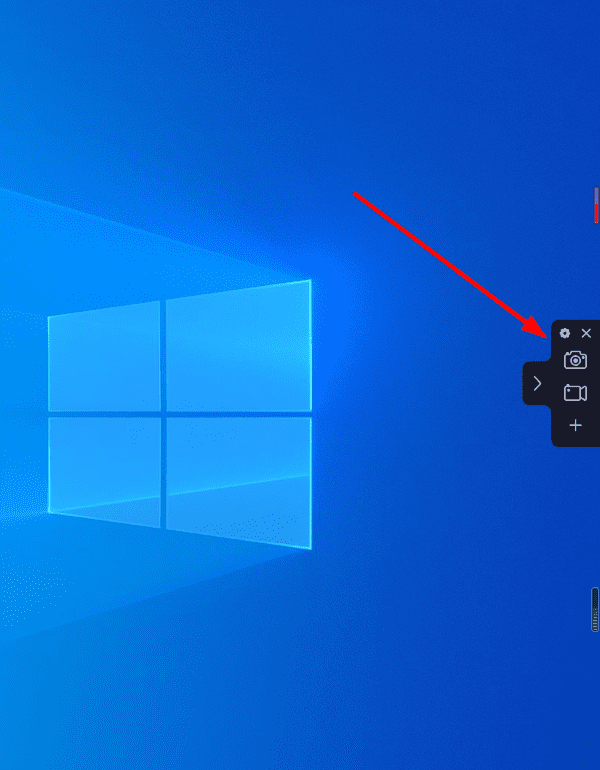 By default, there are 2 features for quick access on the control panel: screenshot taking and screen recording, but you can click the "+" to add extra feature at your fingertip.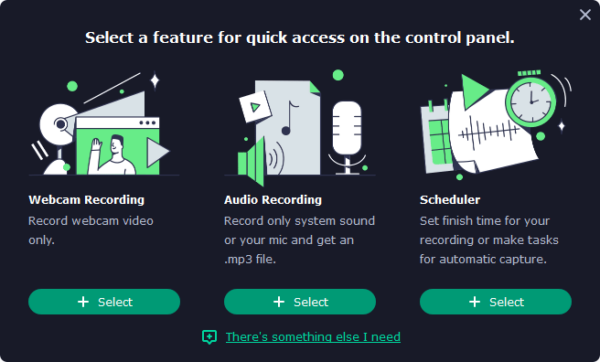 Still, you can open Preference panel and train Movavi Screen Recorder to work as you expect, like choose interface language, destination path, screenshot format, audio quality, cursor option, assign shortcut, schedule recording, etc.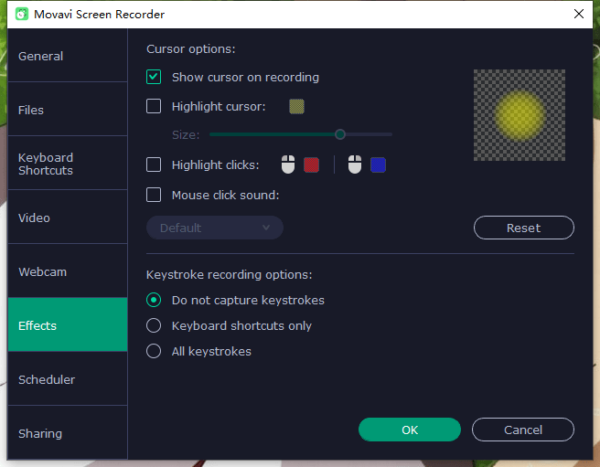 Screen Recording
Screen recording is the easiest and most practical way to grab online webinars, video tutorials and streaming videos on our desktop, it helps us access to those valuable resources online for legal purposes. Movavi Screen Recorder offers a set of tools to bring the most pleasing recording experience.
You can choose any capture area by drag and move the frame or manually type into the width or height.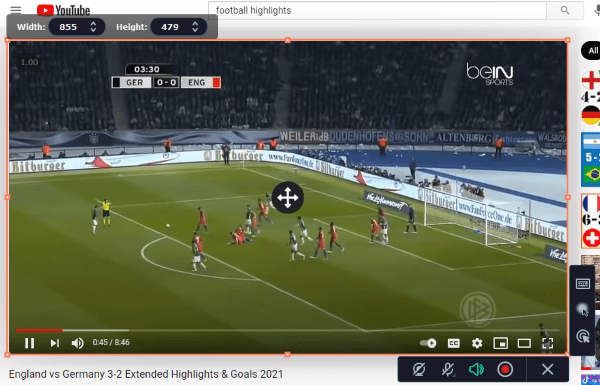 After hitting the REC button, the program counts down 3 seconds and start recording, also you can stop the countdown if you want to make some changes.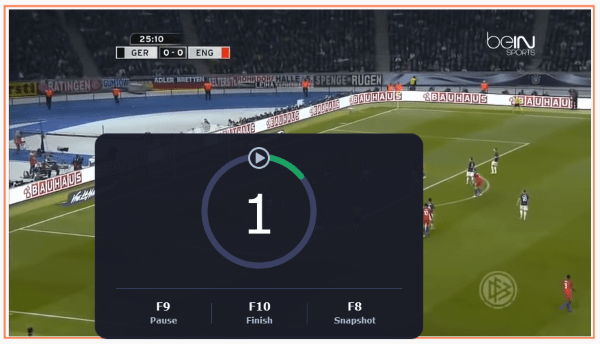 You can mark on the recordings for highlighting purpose.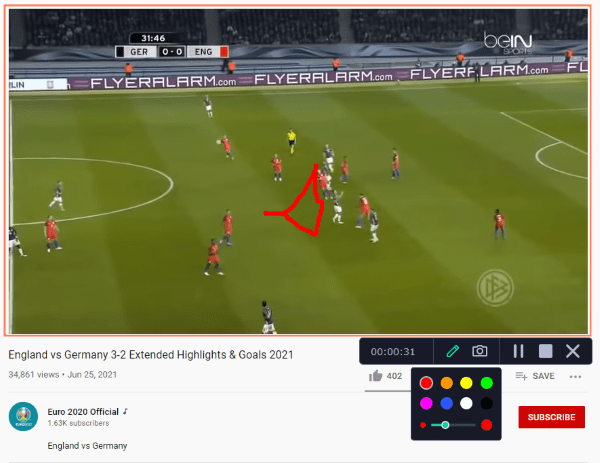 Once you click the Stop button, the recorded video will be opened in Movavi Screen Recorder instantly, you can play the video, cut the video or take screenshot from the video.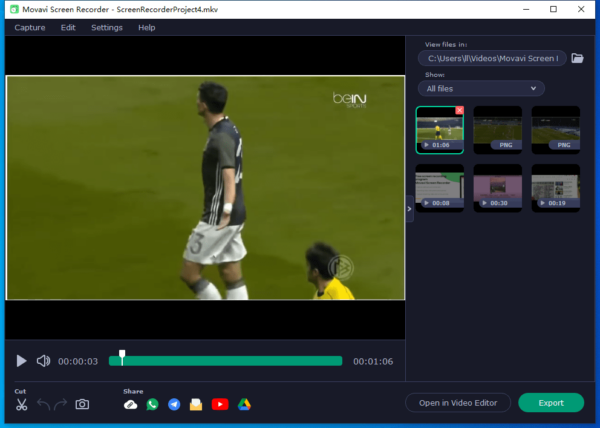 To save your screen recordings, you can use the Export feature to select output video format or customize the output with advanced settings.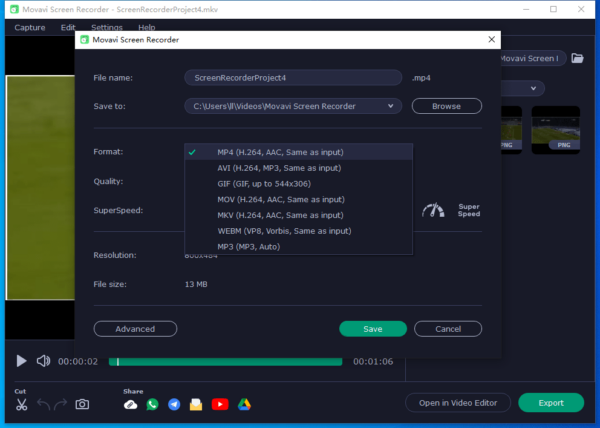 Screenshot Taking
We often take screenshot to annotate or share a file with ease, there are so many built-in screenshot tools on macOS and Windows platforms, but with limited features. Movavi Screen Recorder adds everything you will need to take, edit and share a screenshot.
You can:
Choose any area to capture screenshot
Add text to screenshot
Add arrows, lines
Highlight
Copy to clipboard
Share to Get Link, WhatsApp, Telegram, E-mail, Google Drive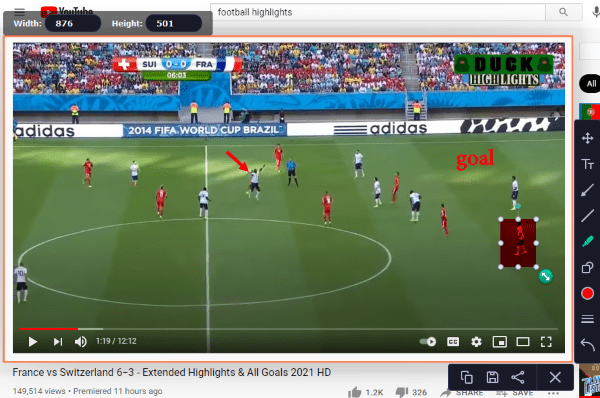 Webcam Recording & Audio Recording
If you want to create a reaction or explanation video, this Webcam recording feature would be very useful. It can detect your webcam and record your voice & video just as the way its screen recorder does.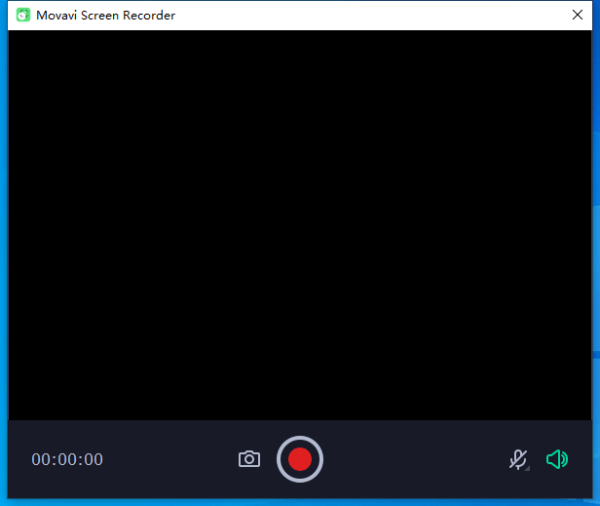 The audio recorder will capture the audio only and save it in MP3 format, also you can trim the audio before saving to your disk.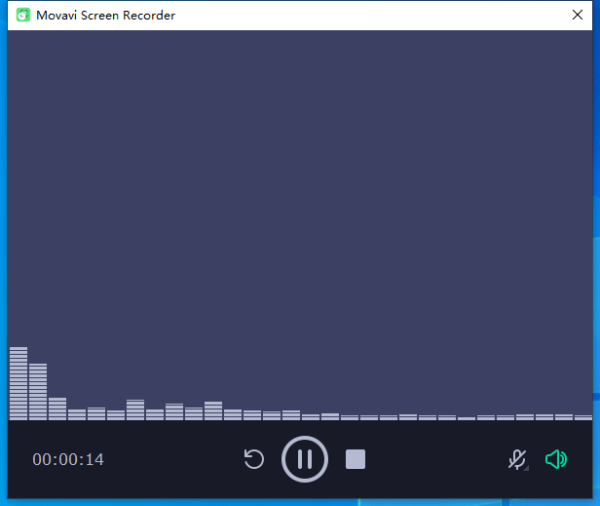 The Scheduler
Want to record a live show or class online but don't want to wait before your screen? Want to record with fixed duration? Try the Scheduler, it allows you to set time limit for recording, also allows you to auto perform the recording task on preset date, time and duration.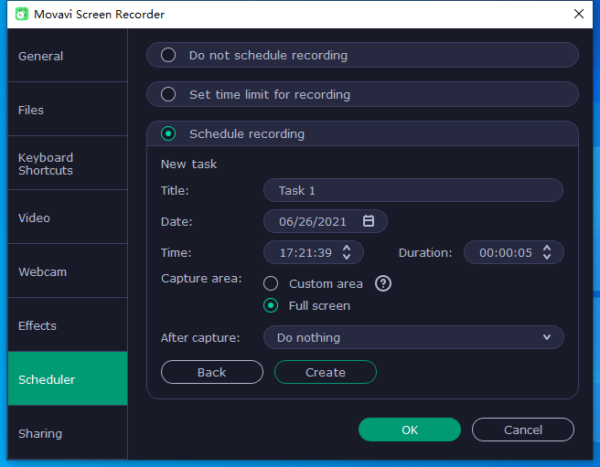 How to Use Movavi Screen Recorder 2022
Cannot wait to start your first screen recording with Movavi Screen Recorder? Now, follow with us to use this program and create your first recorded video.
Grab the free trial of Movavi Screen Recorder 2022, install and launch the program.
Click on Screen Recording icon and choose the capture area by drag and move with your mouse.
Click the red Start button and wait for the countdown to finish.
Click Edit button if you want to make highlights.
Click Stop button to exit from the recording mode.
Play, trim and export the recorded video.