For most of us, an old photo carries a beautiful and unforgettable memory, it's rare. However, as time goes by, an old photo will fade, be damaged… Then how to restore an old damaged photo? Can an old photo restoration can be done online? How to fix old photos offline without photoshop.
Here, you will find all the answers. But one thing for sure is, you need to utilize professional photo editors or pay for offline photo restoration services to fix your old photos, there is no shortcut or efficient free tips to do this.
How to Restore Old Photo without Adobe Photoshop?
For pretty sure, Adobe Photoshop is a perfect tool to restore old photos, however, it takes time and your patience, also it requires that you need to master advanced skills of using Adobe PhotoShop, while, most of us don't want to be bitten by Adobe PhotoShop. No worries, there are solution to restore old photos without Adobe PhotoShop.
Luminar AI (macOS & Windows) is a life savior, it works as good as Adobe Photoshop, but makes it quite easy to fix old photos. Differing from Adobe Photoshop, Luminar can restore old photos automatically with several clicks thanks to its AI power.
Luminar is specialized and dedicated software developer to offers solutions the field of image editing. And its Photo Editor offers the easiest way to edit and customize photos, you just need to click the buttons, Luminar will do the job.
What Can Luminar AI Do?
AI-Powered, detect and enhance the details automatically

Browse and manage photos in library

Crop, rotate and zoom

Essential editing: light, color, details, denoise, landscape, vignette

Creative editing: sky replacemet, sunrays, dramatic, matte look, color styles, glow, fog, etc.

Professional editing: advanced contrast, gradient, dodge & burn, filter, split toning

Retouch

Batch resize and rename

Export photos to JPG, PNG, BMP, PSD, etc.
For itselectable users, use the promo code ITSELECTABLE20 to have an extra $10 OFF
Check Out How to Restore Old Photo without Adobe Photoshop
Head to Luminar AI website, download the installer, install and open the application.
Click +>Add Image to import.
Go to Templates, choose a Luminar look to enhance your old photo in one click.
Head to Edit>Essentials, use the Color, Light and other basic tools to adjust the color, light, exposure, contrast or others to fix your old photos.
To remove stains, creases, spots or other unwanted parts, go to Professional>Clone.
Adjust the brush size, softness and opacity, set the source, then clone the good pixels to targeted area by stroking the brush. Zoom in for accurate cloning, press Space bar to change between brush tool and hand tool. Click Ctrl+Z to undo. To set a new source for cloning on new areas, click on the Clobe toolbar to save the cloning first, then click on it again to reset the source.
Finally, Export>Save Photo to Disk to export the old photo after restoration with Luminar AI.
For Users Who Want to Restore Old Photo with Adobe Photoshop
The steps to restore old photos are quite complicated, you have to use different tools to remove crease, rips, stain and adjust according to personal needs, back and forth. However, if you have installed Adobe PhotoShop and want to do old photo restoration on your own, following YouTube video tutorial will help a lot.
Can I Restore Old Photos Online Free?
Yes, but, there are somethings you need to know.
There are 2 ways to restore old photos online, using online free photo editors or online services. The former does offer the solution free, but they won't help on the old photo restoration, while the latter is not offered free.
About Online Free Photo Editors
In fact, the tools to edit and restore old photos online free is very few. I searched in Google and tried to upload old photos to those claim to be able to restore old photos online free, however, most of them require a payment. Though they do offer free economic solution, the restoration will disappoint you, like Phowd.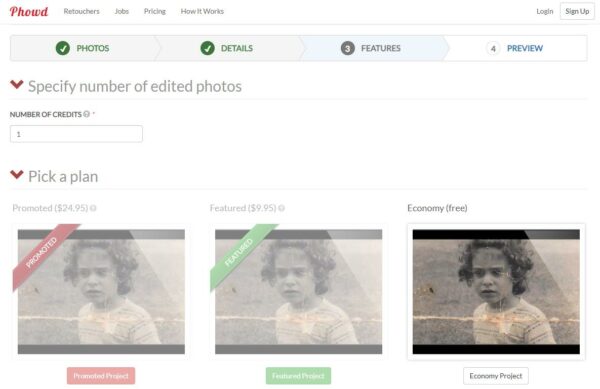 While, LunaPic is the only one online photo editor allowing users to fix old photos free, however the restoration result is not that satisfactory. You can check Before and After result from LunaPic.

Anyway, if your photo is not as old or damaged as the above one, you can have a try on LunaPic.
Steps to Fix Old Photo Online Free with LunaPic
Navigate to LunaPic website in your web browser.
Upload your old photo.
Go to Adjust>Photo Restore.
Once ready, save the photo to your device.
About Online Old Photo Restoration
Another choice to restore old photos online is to pay for an expert to do so, and definitely, it is not free. You just need to upload your photo, send your request, make the payment, then a restored photo will be sent back to you within 1 week.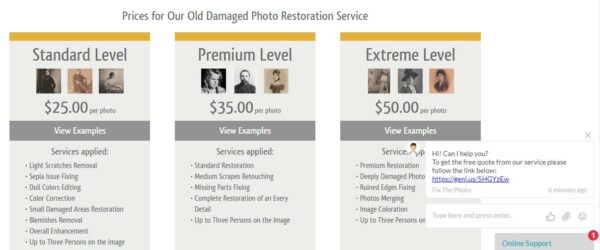 As you may have noticed, there are more choices offered on such an online photo restoration restore. After all, restoring an old photo is not an easy job, especially when you don't have a such professional tool.
Photo Restoration Can Be Easier!
So, there is no free ways to restore old photos online or offline, a payment is required no matter you turn to an expert or purchasing a photo editor. Also, fixing a damaged photo is not that difficult as you imagine, it can be quite easy, as long as you have found some tools like Luminar AI to do the job for you.