Editing text in PDF is not easy if you haven't yet find the tool. Dedicated software can make it easier, but some solutions don't work, they cannot let users edit PDF text with same font and keep the original formatting.
One thing for sure is, editing PDF doesn't require a steep learning curve as editing photos or videos, and we can find a perfect option to edit text in PDF without messing up formatting.
Why We Finally Give up on Online and Low-Priced PDF Editors?
I've tried 20+ PDF editors, but here comes my conclusion: none of online or low-priced PDF editors can let users edit the text in PDF with same font, not changing the text property, file layout.
In the past days, users were not likely to spend a lot of money on a PDF tool. Yes, a PDF tool never came with a low price in those old days. Until PDF becomes more popular, people need to work with PDF very often in their work or life, there are more tools and services created for this, including online and low-priced editors that have basic editing tools, for example view, fill, sign, create, convert, edit, etc.
However, none of these online or low-priced PDF editors have editing tools as powerful as those branded PDF editors. When editing texts in a PDF, the font will be changed and looks different from those texts in the same sentence or paragraph. And the changes on font size, color or style might ultimately mess up the formatting in the whole PDF document. Let's check out some examples from 2 most popular online or low-priced PDF editors.
PDFchef
It was my favorite app to edit PDF when I wasn't demanding on a edited PDF file. The price is so good and has all basic editing tools users will use the most, create PDF from popular formats, edit text/image, sign PDF, merge PDF, export PDF, organize PDF pages and append.
It can edit texts in the PDF document, but as you can find in the following screenshot, the font has been changed, pdfchef cannot match the newly added texts well with the existing texts nearby, in terms of font style, color and size. Maybe you can manually adjust the font,but there isn't a perfect solution to match the newly added texts to be the same as others in the PDF, unless that specific font is included in pdfchef's font library.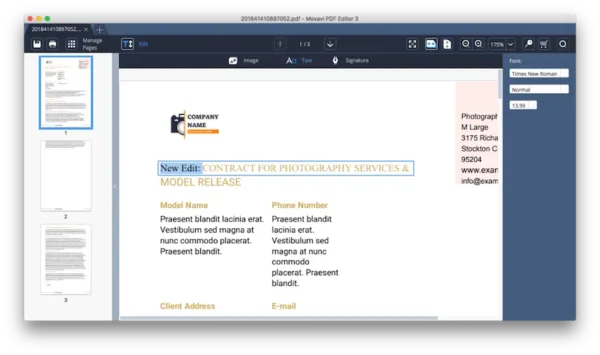 Sejda
Sejda is always my favorite web tool to edit a PDF document, it allows fill and sign, add text, edit images in PDF, has rich tools of annotating, markup and drawing. Comparing with other online PDF tools, its editing tools give users more control on the text or image, however, it cannot keep the same font and will mess up the formatting.
In the following edit, I tried to add new texts, but the font has been changed and it cannot start a new line when the words gets larger and longer, which finally destroy the formatting.

In our other testing of editing texts with online or low-priced PDF editors, we had the same result, no texts can be kept with the same font, the formatting becomes a mess. And here goes the conclusion, online PDF editors may offer more editing tools even than those offline PDF editors, it cannot keep the same font, even mess up the formatting; low-priced PDF editors may come with less editing tools, they basically won't harm the formatting, however, they cannot keep the same font neither.
Therefore, the high price tag of those powerful PDF editors has its reasons, they do better and seem to be the only solution to fix mess-up on font, formatting.
2 Ways to Edit Text in PDF with Same Font and Not Mess Up Formatting
Well, we checked and found the tools to edit text in PDF with same font. If you are thinking about where to set up shop first, following 2 should be your first stops.
Adobe Acrobat—BEST FOR MAC AND WINDOWS USERS
Maybe you will feel unsurprised or even unwilling to see Adobe Acrobat on the list, because you have known its almightiness, but the high price is the deal breaker to you. It is now the time to reconsider and try this app, the intense competition in the PDF editors market finally stimulates Adobe to make a more user-friendly subscription plan, with $14.99~$24.99 per month, you can get full access to Acrobat features and cancel at anytime. And check back the price of other branded PDF editors, you will find that there is no much gap between Acrobat's price and price of other branded PDF editors, why not Adobe Acrobat?
Back to Adobe Acrobat itself, it is all powerful and easy to use. All the tools and options in it enable users to fully control a PDF document, to edit the texts, images, links, media, layout, actions, etc. It gives the perfect solution to edit text without messing up formatting, it has a large font library which can auto detect the font style and suggest the best fonts for your document if such a local font is missing on your machine, it will do the best to match texts nearby and leave the minimum trace of changes on your file.
How to Edit Text in PDF with Same Font and Not Mess up Formatting?
Get a free trial of Adobe Acrobat, it is a 7-day free trial, then install and fire up the app on your machine.
Open the PDF with Adobe Acrobat.
Head to Edit PDF on the right side.
Click on the texts that you want to edit, to add, delete, replace the texts as you want. If the original font is not available, you can add the font or use the font Acrobat suggests for you.
Head to File>Save. Or hit on the Save button.
PDF Expert—BEST FOR MAC USERS
It is lucky for Mac users to have PDF Expert, the best PDF editor in Mac App Store. It has a lower price than Acrobat and does well in keeping same font when edit PDF texts.
PDF Expert has a lot of features too, but its editing feature is amazingly outstanding, which uses beautiful interfaces to do a highly efficient workflow on a Mac. It can edit texts with same font and maintain original formatting as highly as possible. Its newly added OCR feature even lets users to edit scanned and old documents easily.
How to Edit Text in PDF without Messing up Formatting?
Get a free trial of PDF Expert on your Mac, install and fire up the app.
Drag and drop your PDF files to this app.
Click on Edit>Text, choose the texts that you want to edit. Also use the options provided to make your editing look great.
Then go to File>Save.
Edit PDF Texts Like A Pro
After 2-year subscription of Adobe Acrobat, I am finally able to create professional-looking PDFs, including contract, business plan, certificate, presentation with media objects, survey forms, it is much easier than I think. NOW give its 7-day free trial a go and you will love it.